In the world of retail, marketing campaigns can make or break a brand. Just look at Peloton's Christmas campaign. -test
But a successful campaign requires so much more than creative thinking. In a world where consumer preferences, channels, and market dynamics are changing faster than ever, a campaign's performance becomes just as important as the creative execution. As new technologies come online to deliver these campaigns, and the data they create explodes, understanding this performance from end to end has never been more challenging.
That's why we're so excited to announce our new solution with Wipro at NRF this week to give retailers the ability to get a cohesive view of their campaign spend, from start to finish. With this single source of truth spanning the entire campaign lifecycle, retailers can analyze, track, and optimize their campaigns. All of this is delivered as a turnkey solution, freeing retailers from the expensive and time consuming exercise of trying to cobble together their own from the disparate marketing, advertising, and analytics solutions available today.
That means more time to focus on what retailers do best - delighting their customers and building profitable businesses.
Increasing Return on Ad Spend
Ask any retailer, and they'll tell you they spend significantly when it comes to advertising, whether that's through social media, digital advertising, print and TV, or out of home. Those same retailers, though, will tell you they'd like to get more return on that ad spend.
So how does a retailer actually benefit? With the end to end campaign solution from Wipro and ThoughtSpot, they would be able to:
Establish which stores are doing well, and which ones are not

Identify high value customers in the non-performing clusters & drive conversion

Figure out nationwide customer pulse from publically  available datasets

Figure out what features make up the condition for intent

Execute targeted campaigns and drive sales through effective ads
Bringing Business and IT to Deliver Results
With the retail world moving faster than ever before, it's critical both IT and business teams are aligned and in lockstep. With the new solution from Wipro and ThoughtSpot, both these organizations benefit because of the tightly closed loop between business outcomes and technology drivers. Business users have the data they need to make the right decisions, while IT can seamlessly feed them the information they need in order to do so.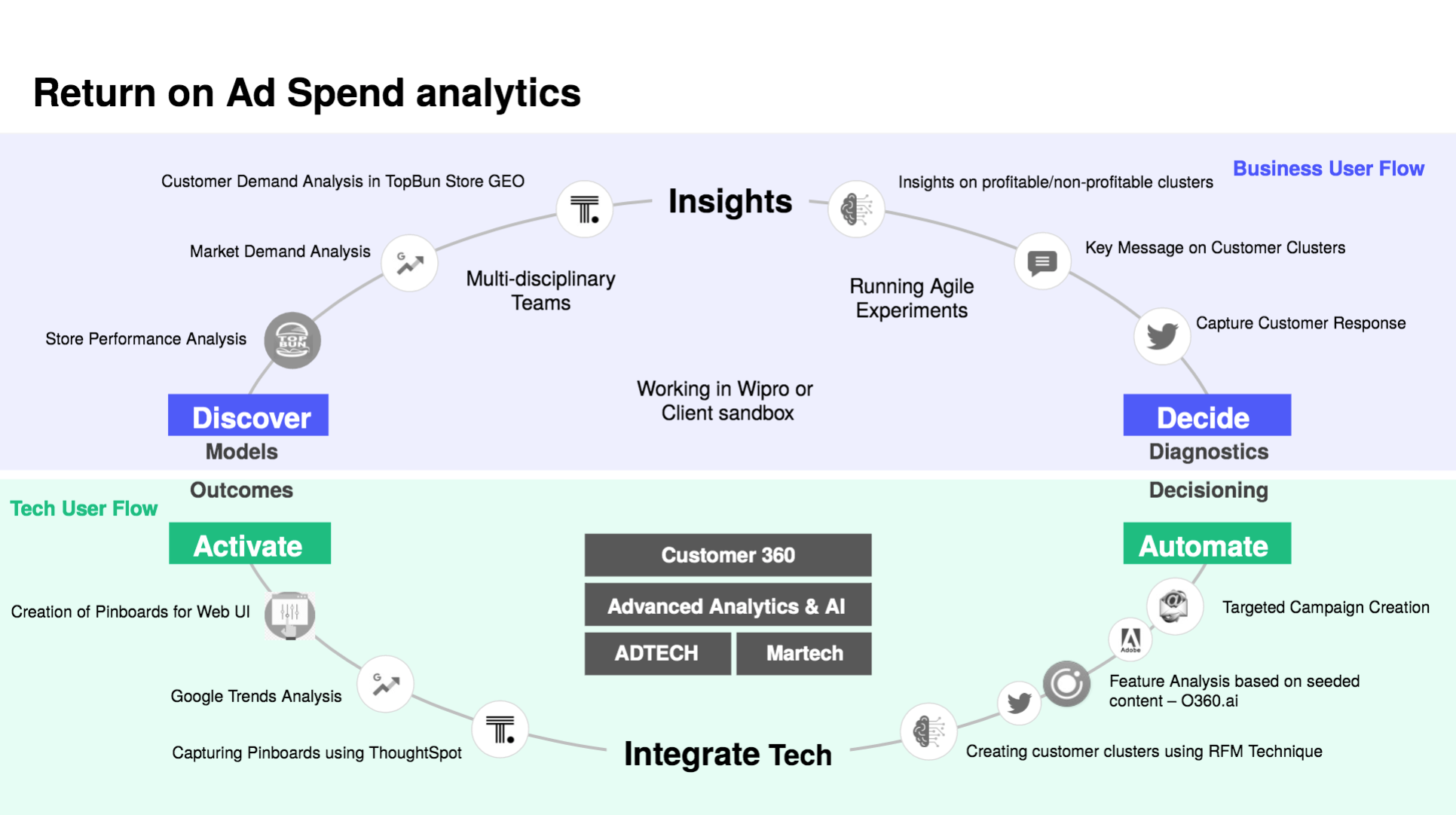 So what does this actually look like? There are four key steps:
Discover. Leveraging a store or brands data performance data is the first step. This data is then dramatically enriched with market demand data from Google's trending search data and demographics from census data to create richer customer profiles. All of these profiles are then analyzed with ThoughtSpot to robust, granular insights on customer demand, behavior, and profitability.

Decide. With this deep level of insight, the same brand can now develop key messages tailored to clusters of customers, then capture customer response using social media platforms to evaluate these messages.

Automate. Once messaging and the approach has been optimized, the solution becomes highly automated to build out campaigns. Targeted campaigns are created, leveraging tools like Adobe Marketing Cloud, while Oculus 360's customer behavior data is used to build feature analysis based on seeded content.

Activate. After the campaigns have been automated, customers get powerful insights from across the campaigns performance. These insights can be captured in pinboards, shared with other stakeholders, and further analyzed, leading to new discoveries that allow the process to begin again.
If you're interested in learning more how Wipro and ThoughtSpot can help you optimize your campaign spend from end to end, stop by booth 3637 at NRF or reach out to [email protected] and [email protected].