Remember December 2019, the good old days before we knew a pandemic was coming? That was when we recorded the first episode of The Data Chief podcast.
We had been shaping the brand, the concept, the format for months. Frankly, I was not much of a podcast fan, more of a writer and reader, but our CMO, Scott Holden was an avid podcaster.  I said I'd give it a whirl. Podcasting, it seemed, was the new, preferred medium for authentic conversations and continuous learning. You can podcast when you commute to work, do the laundry, or work out!  
The making of a podcast
We recorded the first episode in our Sunnyvale offices, December 5, 2019. I was staying for the weekend for my first holiday party as a ThoughtSpot employee. The future seemed bright. Ian, our first producer at Mission.org, put me in the hot seat, with some insightful questions, including, how did an aspiring writer venture into tech, what do I think of the CDO and CAO role converging, and where did my passion on data for good come from.
I returned to New Jersey to set up a home podcasting studio. With the clunky headphones and a big blue microphone, I certainly flashed back to my father, a DJ and sportscaster, known for drawing stories out of people. Could I do the same?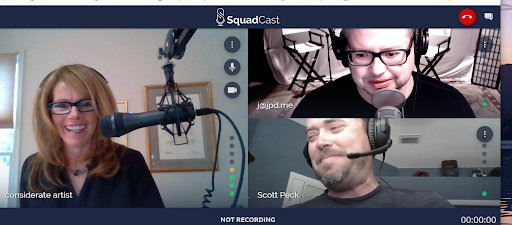 My first guests were people I felt I had some chemistry with, either because I had known them for so long or because they were enthusiastic ThoughtSpot customers. These included Max Chan, CIO of Avnet, Sully McConnell, CDO of The Hartford, Stephen Harris, then CDO of VMWare, now head of AI at Microsoft, Scott Peck, Senior Director of Analytics at PwC, and Gustavo Canton, then of Schneider Electric, now running his own consultancy. The conversations were indeed both fun and instructional. We had some logistics to learn: One early guest had to borrow his son's gaming headphones (we now know to ship a pair.) Stephen reminded me I've trained a generation of data and BI leaders going back to my TDWI and BI Scorecard days.
We released the first episode on April 24, 2020, coincidentally my wedding anniversary, so a memorable date. I had planned to take the day off, but instead, started the day ensuring everything was published and promoted as planned.
Thanks to our inspiring guests and listeners who tuned in from around the world, The Data Chief climbed to the top of the itunes charts for top new tech podcasts.
The high points
With no in-person events in 2020 and a steep learning curve for firguring out how to connect virtually at scale, the podcast was a blessing in uniting a data and analytics industry still reeling from Covid, social protests, work from home, and accelerated digital transformation. 
The people:
It's a privilege to be able to interview leaders from around the world who are disrupting themselves, their companies and their industries. I think of the essence of their work and who they are as people:
The thought leaders:
I have learned from some of the best in the industry across decades now, reading countless books and articles from the likes of Tom Davenport, Randy Bean, Bernard Marr, or newer authors Cole Nussbaum, Zhamak Dhagani, to name a few. And when these esteemed individuals accepted my invitation to be a guest on the podcast, I let out a woop!   These experts keep me on my toes!
Imitation as flattery:
  I've heard from several tech companies that they launched their own podcasts based in part on the success of The Data Chief. If imitation is flattery, I'll take the compliment. I have watched some flounder, and I know they haven't found the right formula or audience. It challenges me to make sure I keep the topics and guests, relevant and fresh.  
The evolution to Live:
A podcast is a two-way conversation but bringing The Data Chief to LinkedIn Live, YouTube, and Twitter has enabled me to scale the conversations and connect more leaders in real time. I'm grateful for Kate Strachnyi for sharing the tools of the trade in getting this launched, and for the community for connecting and debating to evolve our thinking as an industry. Inspired from James Cleary's Atomic Habits, I think of these monthly live sessions as a habit of learning and debating in a many-to-may format.
Low points
Of course, behind every podcast, there are the low points. The interview that didn't go so well, when I just couldn't get a vibe going or overscheduled myself with insufficient prep time. 
I think about some guests, so hopeful in their roles while on the podcast, who have since moved on, mission not always fully accomplished. The Data Chief role is not for the faint of heart, whatever the title. And yet, there are those trail blazers, the people and the companies who know data is essential in a digital economy. Take Dr. Katia Walsh, Chief Global Strategy and AI Officer at Levi Strauss & Co. who recently shared on an episode, "A modern business cannot exist and thrive without having a viable and thriving capability around digital and emerging technologies. Data of course, and artificial intelligence and everything in between. There's no business today that can survive without it." This is the talk and the walk that all data leaders and their companies need to practice. If the podcast provides but an ounce of motivation, I'm all in.
What's next
I am super stoked to have recently launched the Data Chief Slack Community. It is a private community for change agents to strategize, shore each other up, and test one another's thinking. It's a joy to connect these people doing pioneering work.
For the guests and listeners, I am so grateful to share this journey with you. Thank you for tuning in! I'm hoping to travel more in 2022 so I can meet many of you in person.
As to guests I'm hoping to host on the show as I look ahead; well, that should be obvious - as a Packers Fan, I want to know Matt LaFleur's data-driven secrets!