Today, we are excited to announce the availability of CodeSpot, a searchable repository of ThoughtSpot blocks and code samples to help developers embed engaging analytics experiences into any app for the modern data stack. CodeSpot harnesses the knowledge and experience of ThoughtSpot Everywhere developers, data analysts and engineers, and product experts to build a broad ecosystem of shareable assets to accelerate development projects and benefit our developer community and customers.
How do you use CodeSpot?
Starting today, you can take advantage of more than 20 different code blocks on CodeSpot spanning TML, custom actions, visualizations, formulas, APIs and tooling, and more. Just enter your search term or quickly filter by programming language or block type.
Once you have the block you want, you can use the Learn more link to view a detailed description of the block as well as  installation instructions for how to get started with the block in your environment From there, you can  get the code directly from GitHub.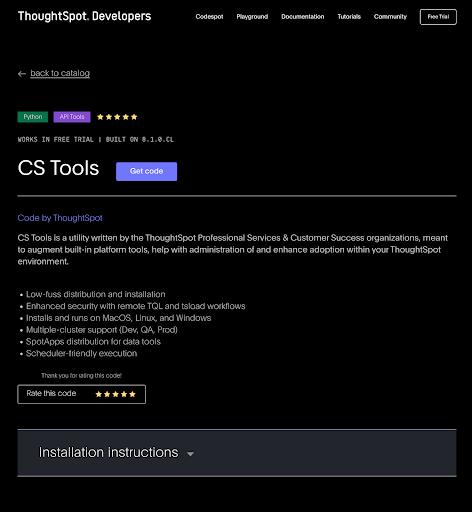 Rate and view the most popular blocks in the community
With CodeSpot, you'll also have the ability to rate any block — the more helpful the block, the better the rating. This allows you, and the rest of the developer community, to easily find and use popular blocks for your app. You can even filter your searches by highest rated listings. 

Get started with CodeSpot today
We are very excited to launch CodeSpot to help developers build quicker by starting with best practice code samples and blocks for the most common development tasks. This is just the beginning of what we have planned. Go ahead and check out CodeSpot now. Let us know what you think.