It's no secret that modern data professionals are under immense pressure to deliver more data and insights to more business users, more quickly than ever before. Data is the lifeblood of your business. And frontline business people need personalized, actionable insights to make data-driven decisions. But before these users even touch a self-service Live Analytics platform like ThoughtSpot, the data must be appropriately modeled by analytics engineers.  
To keep up with intensifying pressure, many analytics engineering teams are throwing rigid data warehouse models out the window. Instead, they're managing complex data work with the same principles used to build software – prioritizing extensibility, programmability, and collaboration to scale up quickly. Today, we are proud to announce that we're making it easier than ever to leverage that work with a new integration to dbt that will empower analytics engineers to seamlessly integrate dbt models into ThoughtSpot's analytics layer.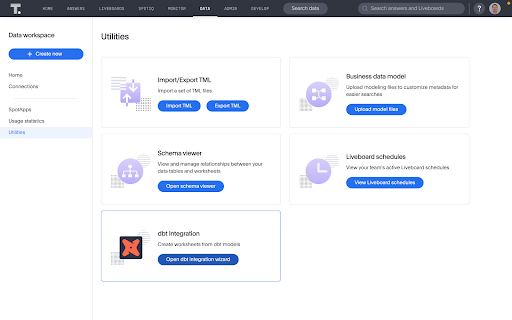 Put your data to work without breaking a sweat
dbt has quickly become synonymous with the "T" in ELT thanks to the way it lets analysts and engineers collaborate on transformation workflows using just their shared knowledge of SQL. By bringing this framework to ThoughtSpot, now any data analyst or engineer can work faster and more efficiently by:
Detecting table relationships from existing dbt models.

Generating scriptable ThoughtSpot Modeling Language (TML) representations of dbt models.

Automatically generating worksheet metadata models in ThoughtSpot.

Importing documented column and model descriptions to help users better understand their data.

Instantly enabling users to start searching and building Liveboards on their dbt-modeled data.
Starting today, ThoughtSpot customers on dbt Cloud and dbt Core will be able to access the integration directly from the newly enhanced Data Workspace, your mission control center for all things Live Analytics. From there, you can connect to your cloud data platform, create searchable views with your own custom SQL commands, and ship your analytics-ready dbt data model to business users throughout your organization. It's a completely scriptable and API-friendly experience fit for data and analytics pros ready to dominate the decade of data.
Get started with ThoughtSpot and dbt
Together, ThoughtSpot and dbt deliver increased analytics engineering productivity and accelerated timelines to launch strategic analytics use cases to the rest of your business. Head to your Data Workspace now to start seamlessly integrating your dbt models with ThoughtSpot.
And if you're curious to try Live Analytics for the first time, you can get started with a free trial today.