This Saturday, we celebrated 10 years of building ThoughtSpot. While that's a major milestone, we know we remain only 2% done. There's so much more to do for our customers, our partners, and our team to achieve the mission of making the world more fact-driven. 
What we are truly celebrating this year is a decade of Selfless Excellence. It is what makes ThoughtSpot, ThoughtSpot. From the very beginning, we've always been committed to building products and solutions that make data accessible to everyone. Over last ten years, we've had our fair share of ups and downs, but a few things have remained unchanged:
The problem we are solving. ThoughtSpot is making data accessible to everyone, regardless of their technical skills.

Our purpose. We're making the world more fact-driven. 

Our culture. Put simply - Selfless Excellence.
Defining and scaling our culture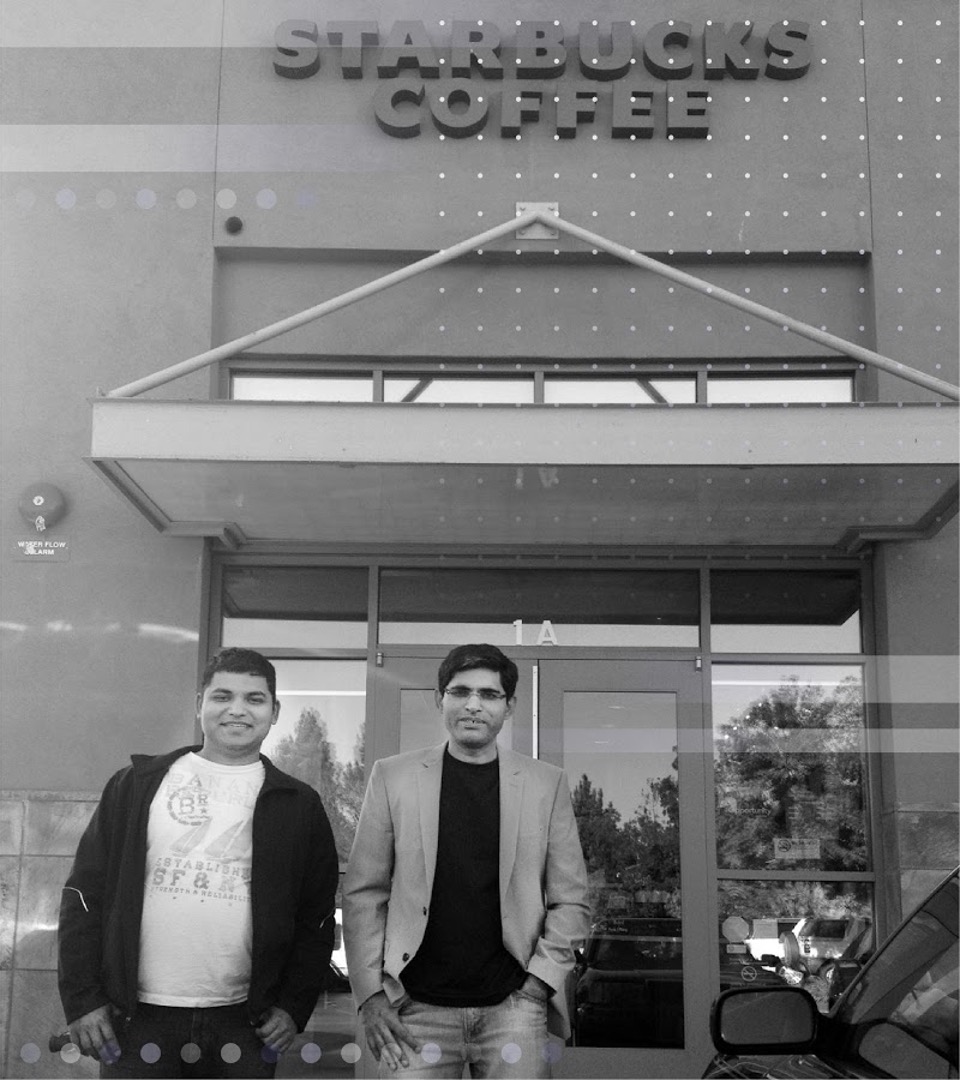 As co-founders of ThoughtSpot, we often get asked how we went about building and scaling our culture of Selfless Excellence. But before we get into sharing that story, it's important to understand what exactly is culture, and why it is so crucial when it comes to company building. Sometimes, especially in the tech world, culture is confused with perks like flexible hours, remote work, games and recreational facilities in the office. But that is not culture. 
Culture, as a concept, is deceptively simple on the surface but so much more complex under the hood. The simplest way we define culture is "how people act when no one is watching or telling them what to do''. This definition inherently encapsulates why culture is essential when it comes to growth. It allows you to scale and align an organization without overly engineered processes or too much management overhead. If people can freely make decisions that are aligned with core values, it empowers them without creating friction or structural misalignment in the company. In a way, culture is the product founders build that really builds everything else. 
At ThoughtSpot, we started with the idea of democratizing data and making the world more fact-driven. We knew this was a very ambitious goal. In order to translate this into reality, we had to ensure that we relentlessly pursue excellence. 
But sometimes, excellence can become pursuit of personal glory and success a zero-sum game within a team. We wanted to create a company where everyone has an opportunity to express themselves freely, do the best work of their life, and be immensely successful. This meant that we had to create a platform which is the exact opposite of being a zero-sum game. Given how big a problem we were trying to solve, we knew it was not only possible, but imperative that we create a culture that makes it possible for everyone on the team to win, no matter how big their ambition. 
As we began defining the culture, we were certain there were three key characteristics it should have:
It has to be authentic, reflecting who we are as people. 

It should be expressible with simple and memorable words.

It has to be original.
With that in mind, Selfless Excellence was built out as the guiding principle for our culture. Selfless Excellence creates room for personal success – but never at the cost of others on the team. In fact, the opposite is true. Given the quality of our team and our ambition, if we can all work selflessly, in the long run, that's the best way to be "selfish" because when the team wins, everyone wins. The real enemy is the old way of doing things, which our competition keeps selling. We want to create tremendous, unprecedented value for our customers by helping them embrace possibility - that's how we win at the cost of our competition. 
It was easy to communicate the why, the what, and the how of our culture when we were relatively small. The team was primarily based in the US, we met face to face daily, and everyone knew everyone else. But as we grew in numbers and geographies, it became important that we codify how we practice Selfless Excellence. 
So we designed a simple formula for it:
Selfless Excellence = Team First + Be The Best + Humility - Politics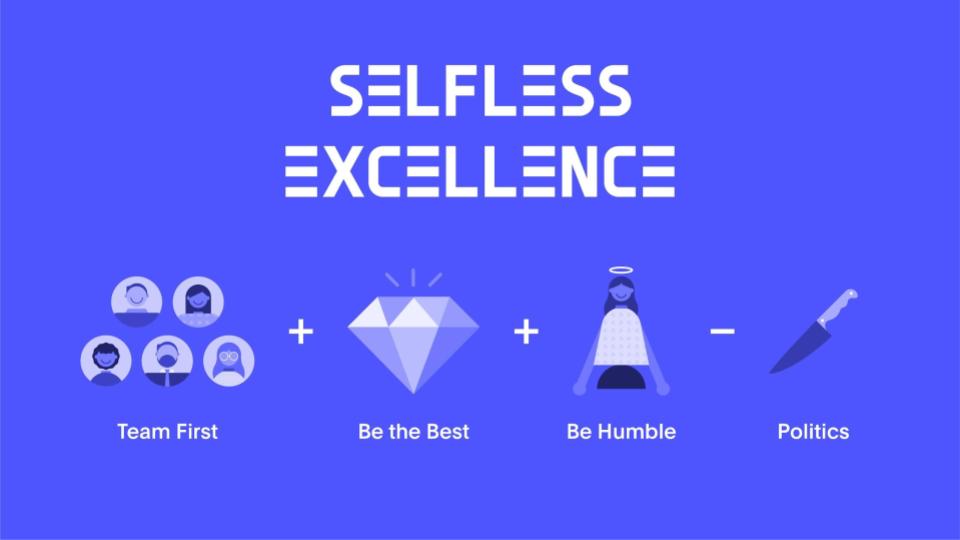 Team First is best explained by this quote from Bill Russel "My ego demands – for myself – the success of my team." We succeed individually only if all of us succeed. It's a game theory thing. If we can all commit to making each other successful, even if it may appear we are hurting ourselves in the short turn, we will eventually come out personally more successful.
Humility means that we are the first to acknowledge problems and mistakes, own them, fix them. Pointing fingers has no place. We do this by creating an environment of psychological safety so we are not afraid to own our mistakes.
No Politics is pretty self-explanatory. It means we do not try to win at the cost of others on the team. We assess this when recruiting people, we maintain transparency so there's little room for politics. If we see politics around us, we do whatever it takes to fix it. There's a zero tolerance policy for politics at ThoughtSpot.
However, defining our culture alone isn't enough. We need to operationalize it, too, by having our leaders live and breathe this culture everyday, by actively communicating it, by demonstrating it themselves, and by rewarding and correcting behaviors that are aligned or misaligned with our culture.
In pursuit of Selfless Excellence everyday
We have been very fortunate to work with an amazing set of people who helped contribute to and scale the culture we wanted to nurture at ThoughtSpot. While it has grown into a self-sustaining system over this past decade, there are a couple of simple tools and processes that we have followed to make our cultural values pervasive in our company. 
From the early days of starting ThoughtSpot, we created this slack channel internally, to provide an avenue for people to recognize each other, instantly. Rather than waiting for big events, every small moment of Selfless Excellence could be celebrated at every level with no organizational process overhead. Additionally, every quarter we award a Selfless Excellence champion that embodies our culture and goes above and beyond for the team to recognize those that have demonstrated Selfless Excellence consistently over a period of time and made a big impact.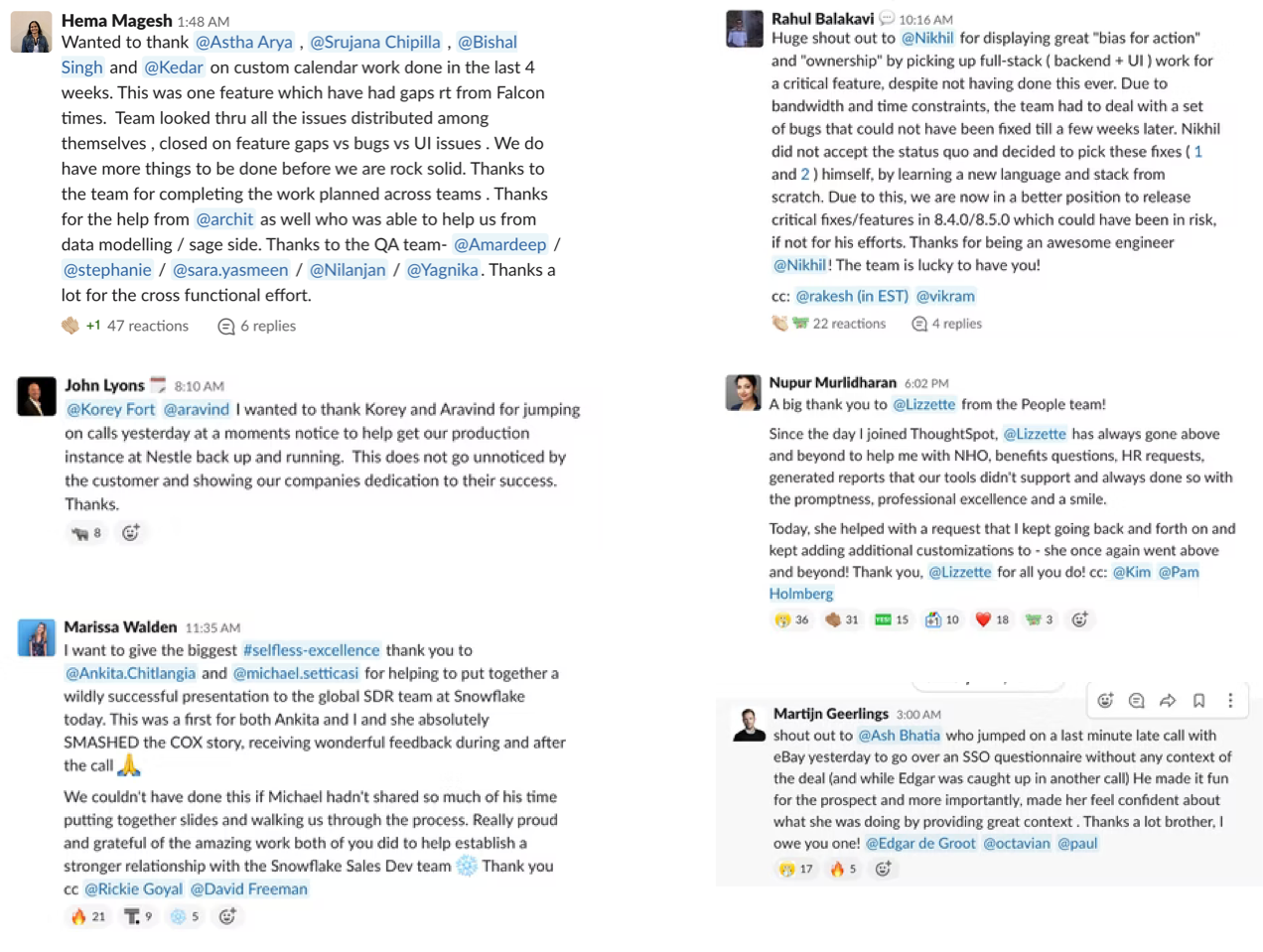 As the industry moves into the defining decade of data, everything is changing rapidly. One thing that cannot and will not change is our culture of Selfless Excellence. We want to continue to be the place where people come to do the best work of their life, solve hard problems, and make a dent in the universe. The first decade was about building the foundation, and the opportunity to scale from here is huge. Our culture is what will help us be successful in the long run, because building a large company of lasting value requires everyone on the team to play the long game.
Come work with our amazing team and experience Selfless Excellence for yourself. Check out open opportunities at ThoughtSpot on our Careers page.