After we launched ThoughtSpot Mobile for iOS last August, we saw our customers do amazing work to transform their businesses with the app. Putting the data employees need to make decisions in their hands when and where they need it is one of the best ways that leaders can increase their teams' productivity.
For example, a Walmart subsidiary uses ThoughtSpot Mobile to enable their Market Asset Protection Managers (MAPMs) to discover the root causes of and minimize possible shrinkage. MAPMs regularly tour their assigned stores to investigate shrinkage, pulling up Pinboards with a store filter to see information about individual stores. Mobile analytics empower them to get answers to pertinent questions in the moment for the first time. 
With the ability to update data as often as hourly, such as during special one-day sales, one MAPM was able to notice that the greeters in front of the stores were scanning too many items that had not been rung up by the cashiers and help correct the issue.
While our customers were excited about the iOS app, we heard many needed an Android app for their large teams on Android devices.
We listened.
Today, I am thrilled to announce the launch of our Android-native version of the ThoughtSpot Mobile app, optimized for both phones and tablets. The app is free to download here.
Thoughtspot Mobile is not just for field teams. Executives also see tremendous value with it. Few executives spend their day in front of their computers. They're on the go. And they need their analytics to go with them.
By bringing ThoughtSpot to more mobile devices, we're giving them the ability to learn everything about their business from anywhere in the world. With the ease of use and availability of all the Pinboards and Answers their teams create in ThoughtSpot, Thoughtspot Mobile has become a must-have app to track critical KPIs anytime, anywhere.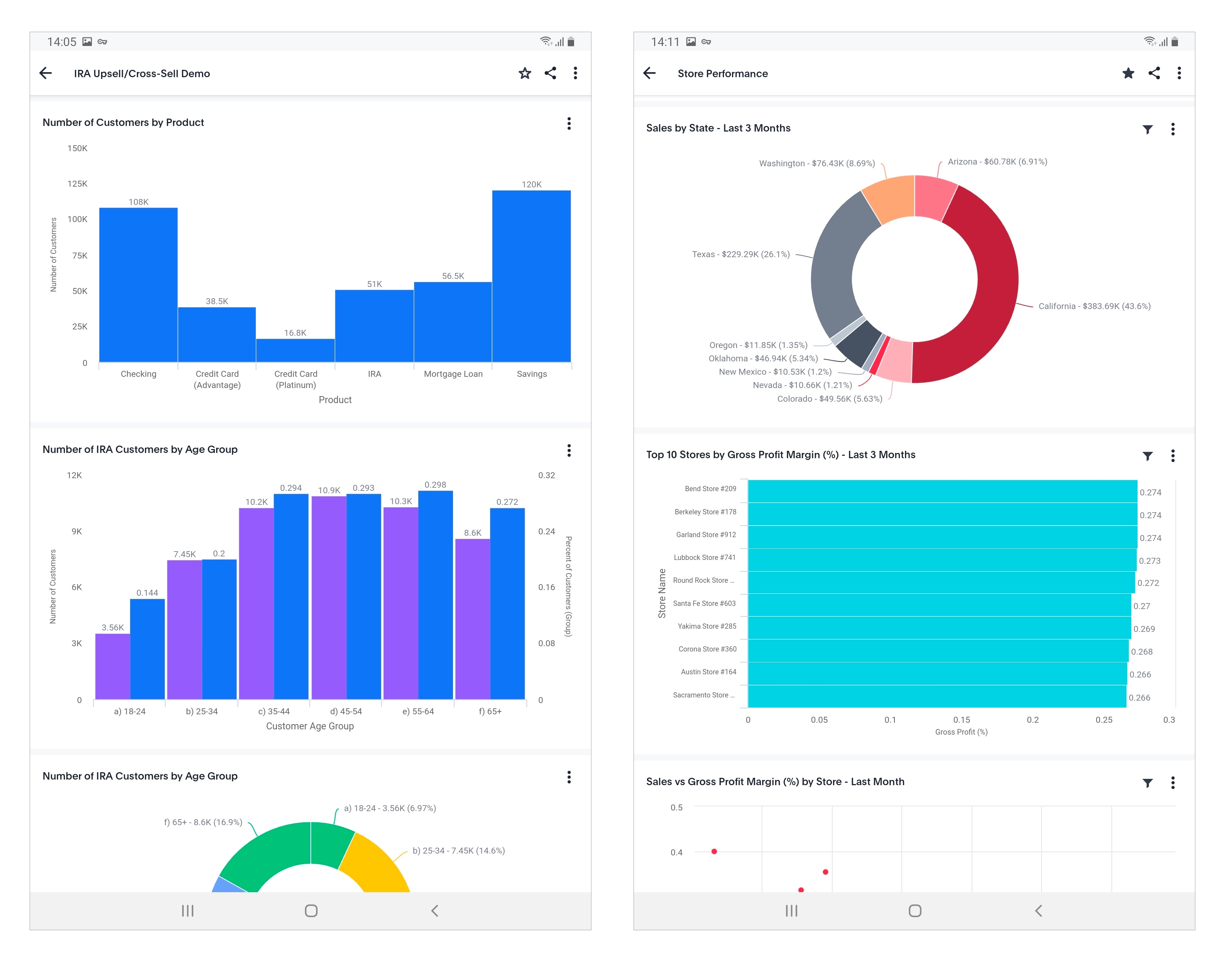 ThoughtSpot Mobile for Android is optimized both for tablets and mobile phones.
It's clear there were many use cases for many different kinds of business users. To serve all of them, we knew the following characteristics would be critical for ThoughtSpot Mobile:
Speed
One-Tap Access: The Home Pinboard is your command center for your most important data. It's always one tap away. It's the first thing that you will see when you open the app, so answering your business questions is as fast and easy as checking stock prices or the weather.

Lightning-fast charts: You can touch your data with Thoughtspot Mobile's interactive, lightning-fast charts. See your data come to life as you scroll through Pinboards and Answers on your mobile device.

Quick Share: ThoughtSpot is all about action. We're always asking how we can help people make an impact on their organization. That's why we built sharing into our mobile app. The moment someone sees something, they can share it with their colleagues. ThoughtSpot Mobile is integrated with the native share sheet on Android, so users can securely post to Email, Slack, Microsoft Teams, or any other app that supports sharing.
Customizability
Home Pinboard: Choose your Home Pinboard from a list of all the Pinboards to which you have access, or craft one just for yourself by pinning visualizations to your Home Pinboard directly within the app.

Pinboard Filters: Pinboard filters are an incredibly powerful feature of ThoughtSpot that we are thrilled to bring to ThoughtSpot Mobile. They allow the same Pinboard to simultaneously give a 50,000-foot view of the whole company to an executive while giving a procurement or customer support manager the zoomed-in view of a specific product or account they need to do their job. 

Favorites: With so many insights being created on the fly, you'll need to keep track of them.  That's why we brought Favorites to ThoughtSpot Mobile. Now you can find all your favorite Pinboards and Answers in one place, and you can add and remove favorites as needed.
Reliability
Offline Access: The Internet is seemingly everywhere—except, somehow, when and where you need it most. That's why we made sure the Home Pinboard is available whether or not you have data connectivity. The cached data is encrypted and secure.

Seamless Authentication: Just like Thoughtspot for the web, ThoughtSpot Mobile supports SSO authentication to allow users to securely log in.

MDM support: ThoughtSpot Mobile for Android works with all major Mobile Device Management (MDM) platforms to enable IT-ops to enforce data security policies.
Now that we support both iOS and Android, we intend to keep the supported capabilities across both leading mobile platforms in sync as we release new versions. In the meantime, do you have an Android phone or tablet? Try ThoughtSpot Mobile for Android and let us know how it's helping you get insights on the spot.