For Snowflake CIO and CDO, Sunny Bedi, "life after dashboards" isn't just a catchy tagline – it's how he runs his business. At the helm of Snowflake's 250-person IT and security organization, Bedi oversees a range of strategic initiatives including security and access control, data quality, and general system availability and performance. His primary measure for success is ensuring Snowflake's global workforce has the right tools and technology to be productive, and at Beyond 2021, he joined ThoughtSpot Co-founder and Executive Chairman, Ajeet Singh to share how ThoughtSpot has been a critical part of achieving that goal. 
Read on for insights from their conversation and to learn why he believes Snowflake and ThoughtSpot offer a powerful one-two punch for CIOs and CDOs looking to modernize their data stack.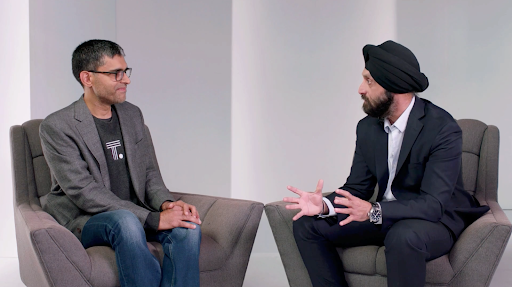 Ajeet Singh: Snowflake is a massive leader in the data space. How do you turn your own data into revenue and cost savings for the business?
Sunny Bedi: We believe that if we measure the right stuff, we can drive the right outcomes as a company. We also want to be the best data-driven company. So using the product internally is a super important initiative, not just for the IT organization, but every function in the company. We have a program called Snowflake on Snowflake that I co-lead with the product team, and essentially we have every single use case that we can imagine powered through Snowflake inside the company. 
Ajeet: So why did you bring ThoughtSpot into your organization? What business problem you were trying to solve?
Sunny: We wanted to have a POC with our ITSM data, which is powered through ServiceNow. IT uses ServiceNow for CMDB, ticketing management, change management, and many other use cases. From an analytics perspective, the data that comes from ServiceNow is not very intuitive. I needed a platform that would be universally adopted by IT and security, and give my team the self-service ability to ask questions, do searches, and drill down. ThoughtSpot was a clear winner. Today, when we start our Monday morning meetings looking at operational metrics or our security metrics, or employee experience metrics, we use ThoughtSpot to visualize and dig into all of it. 
Ajeet: So you're trying to say that you didn't want to use dead dashboards to run your own business?
Sunny: That's right. I need the data to be fresh and I wanted the power to be in the hands of my end-users to ask the right questions and drill into the details all in real time. ThoughtSpot has been really, really powerful for our whole organization. And now any meetings that we have in our IT and security organization, we don't really use spreadsheets. We really don't use Google Sheets. It's all using Snowflake and ThoughtSpot to really drive the decisions and the data that comes with it.
Ajeet Singh: Walk us through what a typical interaction with a Liveboard in ThoughtSpot looks like and how you might drill down to get more insights and make decisions.
Sunny Bedi: One of our highest priority initiatives is employee experience. Since COVID started we've hired roughly 1,800 people or double the company, and making sure that everyone is productive is super important to us because we are still working remotely. To gauge their experience, we decided to look at all the tickets new employees open in their first four weeks to look for patterns and understand how we can improve things for the next set of employees coming onboard. 
So again, we're capturing all the tickets inside ServiceNow, taking that data into Snowflake, and then we use ThoughtSpot to drill down and gather enough intelligence to say, well, we've got to automate this and we've got to automate that. And we should really be giving that type of access management right from the time the employee starts. I have all these department-level insights at my fingertips. And this allows us to drive strategies around our automation journey on what needs to be prioritized. So ThoughtSpot has really helped us get to that level of detail.
Ajeet: And how about other teams at Snowflake? How are they using ThoughtSpot to make more data-driven decisions?
Sunny: Yeah so sales is a fascinating use case for us. What they wanted to do is take a lot of the data that comes from different sources like Salesforce or Zoom Info and put it together to understand which accounts to go after. We ingest all that data, then model and enrich it to come up with a score from zero to 100. Any score over 90 is a targeted account to go after. With ThoughtSpot, the sales team can run searches on any account and drill down to see who they should be going after based on the most up-to-date data. They're no longer dependent upon a typical dashboard, which is kind of stale.
Ajeet Singh: So we've talked about ease of use and how ThoughtSpot is enabling your teams to dig deeper into data. Tell us how ThoughtSpot's performance on Snowflake is different from other dashboard tools that you've used in the past. 
Sunny Bedi: When you give a new application to end-users, you definitely don't want latency. You definitely don't want speed to be a barrier. Everything in ThoughtSpot is real time. I think the architecture of both the companies enables that to happen because there are no dead zones. There's nothing that blocks the end-users from getting to the data. And even for folks to build their dashboards, the speed at which they can do that from a traditional platform is so much faster. 
Ajeet Singh: That's great to hear. Now big picture, there are a lot of CIOs and CDOs that are transforming their tech stack. They're moving from traditional data platforms to Snowflake, but they're taking their old-school dashboarding visualization tools with them. What do you think about that?
Sunny: Look, SaaS applications are really, really good at solving business process problems. But they were never developed or designed to solve the data platform issues that come with them. The data that resides in an application like Workday or Docusign has to land in a data platform application like Snowflake because if you do all your analytics in the point solution and then you want to ingest that data and correlate that data with other platforms, you're going to get stuck. You can't do it. So I think it's really imperative that Snowflake is in the middle of it and ThoughtSpot is in the top of it. That's how you really take advantage of the platform and unleash the power of your data.
To hear how other data and analytics leaders are embracing life after dashboards, check out #BeyondData21 on-demand now.