This blog is part of our ongoing 'Why I joined ThoughtSpot' series, where we profile Spotters from around the world to learn who they are and why they chose a career at ThoughtSpot.
Hema Magesh is a Director on the Engineering team based out of Bangalore, India. She loves anything tech and enjoys listening to audiobooks and podcasts when she walks or runs. At ThoughtSpot, Hema leads the Cloud Platform, Infrastructure, and Security teams. She also oversees the migration of customers to ThoughtSpot Cloud. 
Here's what she has to say about #LifeAtThoughtSpot.
1. How did you hear about ThoughtSpot and what excited you about the team?
I first heard about ThoughtSpot through some friends. When one of our SVPs from Cisco joined ThoughtSpot, it spiked my interest a lot. I was at Cisco for almost eight years and was actively trying to explore new opportunities beyond embedded systems and networking. I was invited to a small gathering in Bangalore by ThoughtSpot and listened to Ajeet, Cindi, and the team talk about ThoughtSpot's mission to create a more fact-driven world. Although simple, this idea struck me as quite powerful. I truly believed in the company's potential impact, and that's when I decided to join.
2. How is working at ThoughtSpot different from your past roles or teams?
I have never worked in a startup environment before and was super excited to be a part of this journey. On my very first day at Thoughtspot, I was involved in conversations about our journey to the cloud. The plan was to go live by May 30th, but I was apprehensive. In large enterprises we typically discuss the project for a few weeks or even months before we start working on it. To my surprise, we started with a hackathon and in a few weeks it was all-hands-on- deck and everything started to move in the direction of the launch. I was nervous, excited, and worried, all at the same time. But the launch of ThoughtSpot Cloud taught me that it's better to keep delivering week-on-week than to get it all perfect in one go.
Each person you interact with at ThoughSpot is so unique. I'm consistently amazed by the technical skill, humility, energy, and team spirit every Spotter brings to the table. People actively listen, debate, and deliberate in a very respectful fashion even if it means taking more time in the meeting. This practice keeps us innovative and there is no fear of failure. I wish I could go back in time and help my former teams adopt this mindset too!
3. Can you shed some light on some of the exciting work the team does to help build a more fact-driven world?
We always have something exciting going on! Currently we are working on automating the migration of our on-premise customers to ThoughtSpot Cloud. We are also coming up with a new metrics architecture that will help customers better understand how ThoughSpot is being used in their organization. This is all part of the groundwork for making ThoughtSpot more secure, powerful and easy-to-use for our customers. We are constantly challenging ourselves to solve problems differently.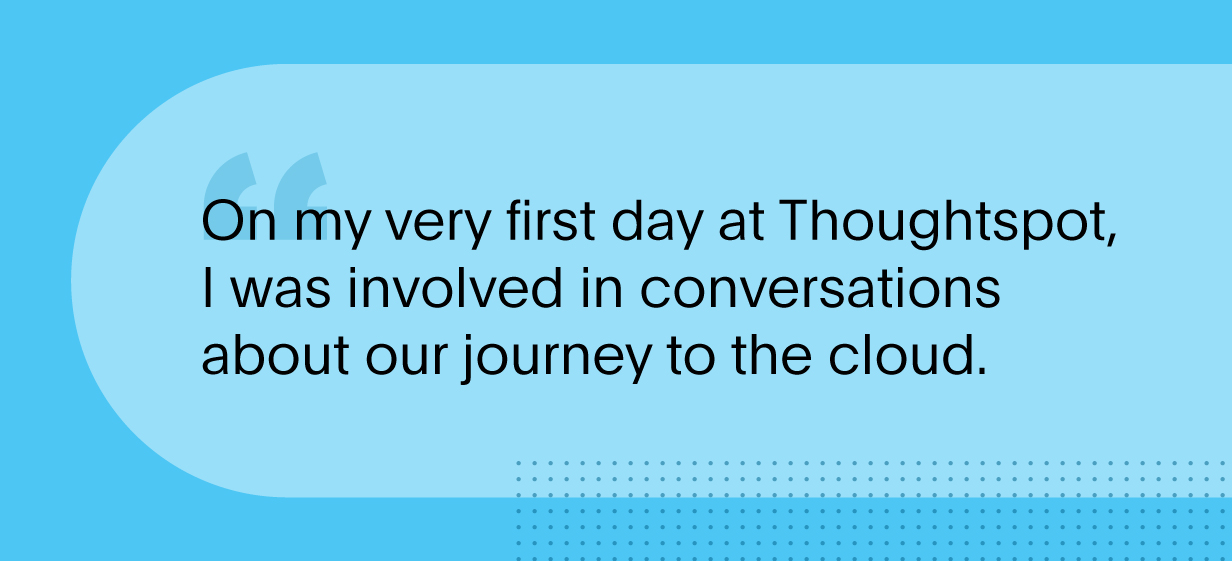 4. How do you use ThoughtSpot in your day-to-day work? 
I love planning, recording and reflecting on projects and programs at home and work. ThoughSpot is so powerful and analyzes the data in a matter of seconds to give me insights that I would have missed otherwise. Personally, I use ThoughtSpot to check on customer issues, user adoption, consumption billing, Continuous Integration/Continuous Deployment health, release planning and team productivity.
5. What are some of the biggest learnings you've had at ThoughtSpot?
There is a proverb in Tamil, that always keeps me grounded: KATRATHU KAIMAN ALAVU KALLATHATHU ULAGALAVU. It means what you have learnt is a mere handful; what you haven't learnt is the size of the world, which roughly translates to the "2% done" mantra we have at ThoughtSpot. I try to keep this in mind to ensure that I never become overconfident. It didn't occur to me that when you apply the same thing to the product you can create magic. I see that magic embodied every day by my teammates at work. Everyone is always challenging themselves to design better and to fix issues differently.
6. What advice do you have for new Spotters joining the team?
This will be one of the best phases in your career. You are surrounded by some of the best brains and hearts in the industry. Time to drop your guard, you are in a supportive environment which will help bring the best of you.<br><br>Join our team and work with Hema! Check out the open opportunities on our careers page today.