We all know that BI is the key to unlocking your data and presenting actionable insights.  But if you're the "B" (Business user) in BI, are those insights at your fingertips or are they really behind a wall of analysts? We at ThoughtSpot want to make sure that you feel confident analyzing data on your own, without that army of analysts. ThoughtSpot is targeted at making analytics instantly available to the business user and with ThoughtSpot 5.3, we have some great new features specifically for you, our business user!<br>We'll be holding a webinar to discuss these new features in detail. Please register and join us on October 3.
New User Onboarding Flow
New to ThoughtSpot? We want to make it easy for you to get engaged right away. When your administrator sets up your account, they'll set you up with the dashboards that others in your company have already created, and which are targeted to your needs. This means that within just minutes, you'll be analyzing data that is meaningful to you! Want to get updates on that data? Just follow that dashboard and we'll email you periodic updates on a schedule that works for you.
Enhanced PDF Export
Now that you have dashboards that show actionable insights, you'll want to share them! You can, of course, share your ThoughtSpot dashboards through either web or mobile, but for folks that aren't plugged in to ThoughtSpot yet, you may want to share a PDF. Our enhanced PDF export now generates PDF that looks just like your dashboard, with multiple visualizations per page beautifully laid out to tell the same story that your pinboard tells. Or if you prefer, you can select exactly which visualizations to output and export vibrant images, one per page. Want to brand your PDF so that everyone knows where it's from? Now you can include your company branding on the cover page and/or in the footers of the content pages, and your name as well. Sharing PDF is a great way to share your insights with others who aren't quite as plugged into the BI world.
Full Screen Presentation Mode
Another way to share your insights is with ThoughtSpot's presentation mode. Our new full screen presentation mode provides a vibrant experience that allows you to tell your story in an interactive way. When you present with ThoughtSpot, you aren't just presenting a slide show. You are presenting insights powered by real data. This means that when someone asks a question, you have the power of ThoughtSpot right there with you, allowing you to drill into your data and answer new questions on the spot. Present a slide, explore more, discuss new insights, then move on to the next slide. Interactive presentations with ThoughtSpot bring the power of data to everyone in the room.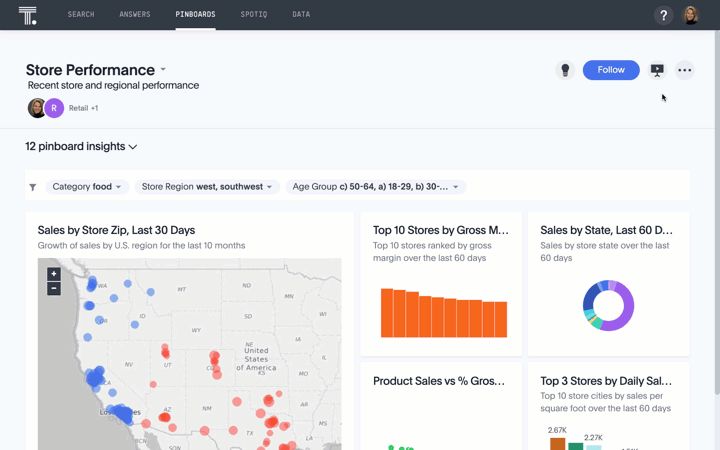 Answer Explorer (Beta)
Speaking of exploration, we know that you are busy and want to explore your data as quickly and easily as possible.  Perhaps you have already have a visualisation that shows sales by date, and you realize you really need to see profit or perhaps you want to compare sales to profit? Answer Explorer lets you find new insights from existing dashboards with a single click. Tweak your charts to generate the insight you need, or use our AI powered suggestions to identify insights that you haven't even thought about. With Answer Explore, new questions don't mean going back to your analyst, or even creating a new chart. With Answer Explorer, your existing dashboard learns what's most important to you and serves up those insights with just a click.
Mobile
As a business user, we know that you are frequently on your phone, not at your desk! Get your business insights while on the go by downloading ThoughtSpot from the iOS App Store. View, create, and filter your pinboards to get your insights, and then share them through slack, imessage, email. Mobile ThoughtSpot makes it easy to have insights and answers at your fingertips, wherever you are.
Cloud Cost Savings
We know that you, the business user, are not the one administering ThoughtSpot, but we're certain you care about costs. With our new configurable instance types, object storage options, and cluster usage control, rest assured that there's a ThoughtSpot cloud configuration that deliver insights without breaking your budget. Let us get you started with a configuration that meets your initial needs so you can see the power of insights at your fingertips.
To learn more about these new features along with other enhancements in ThoughtSpot 5.3, don't forget to register to attend our upcoming webinar on October 3!