Every year between September and October, Latinx Heritage Month celebrates the rich heritage, history, culture, and contributions of the Latinx community. 
When I think of what Latinx Heritage Month means to me, it's not just a celebration of all of these things that root me in my culture - it's an opportunity to reflect on how we can work together to drive positive change among our families, neighborhoods, workplace, and industries.
As a Latina in tech, here's how I found my seat at the tech table.
Shooting for the Moon
I grew up as the eldest daughter of three to Salvadorian parents living in a predominantly blue-collar Latino neighborhood in Los Angeles. My childhood was shaped by my parents' stories of their experience living in El Salvador during a raging civil war, and how they both were drawn to America, the land of opportunities. 
My parents nurtured my grand aspirations of what my life could look like if I worked hard and stayed involved in extracurricular activities.
A pivotal moment was back in fifth grade when my parents heard of a scholarship competition honoring Christa McAuliffe, an American teacher-astronaut killed in the Challenger disaster. The competition was open to all LAUSD students, and students were asked to either draw pictures or write essays on the theme "Reach for the Stars."
As an aspiring artist, I spent weeks learning about the Challenger space crew, watching Christa McAuliffe interviews, and working on both an essay with an intricate border art design. My piece was around one of my favorite quotes at that time: "Shoot for the moon. Even if you miss, you'll land among the stars" by Norman Peale. I related this quote; it's what I've seen my parents do throughout their lives.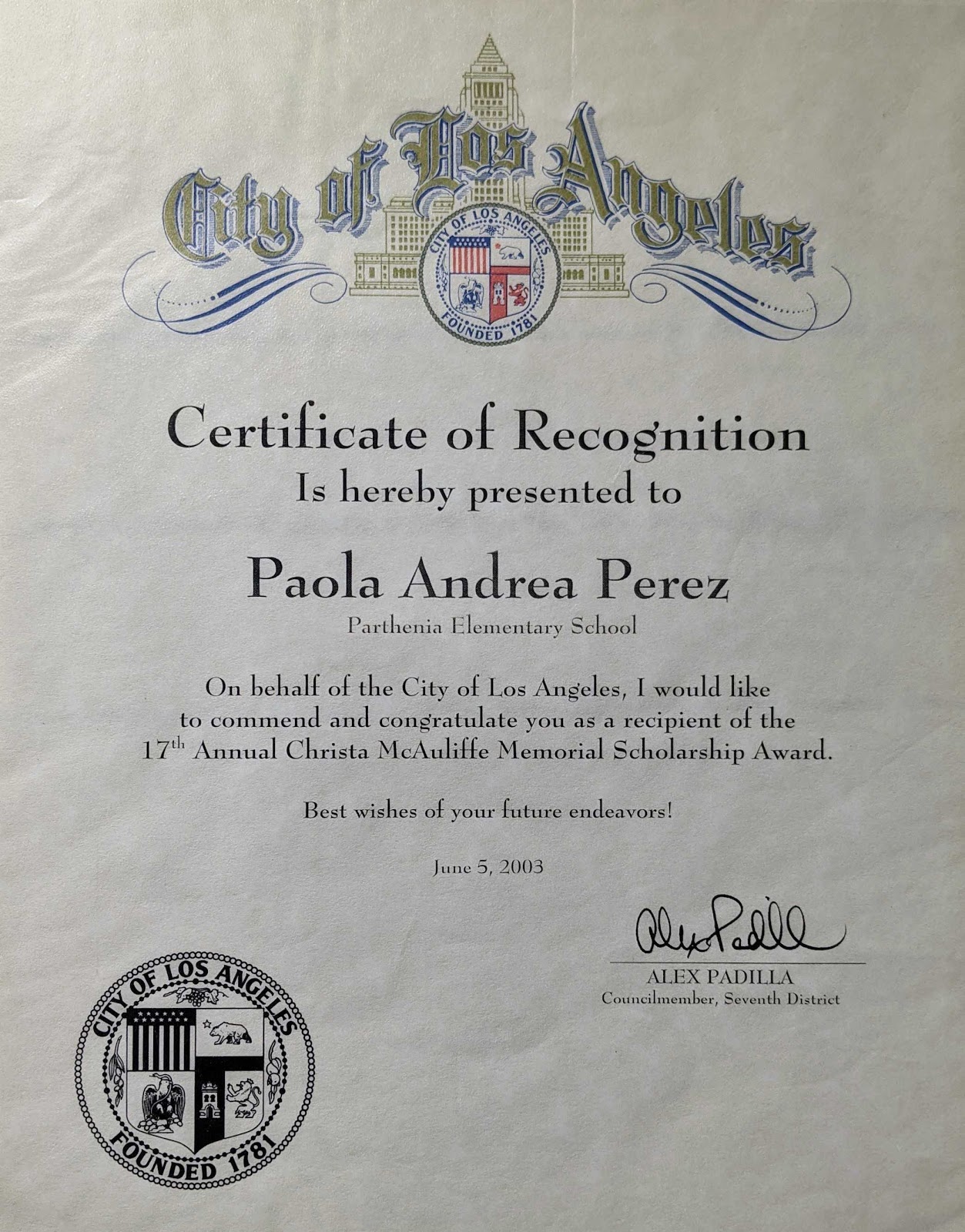 To my surprise, I was awarded a cash bond that I used for my studies at a new magnet school in the valley. My time at this magnet school was a life-changing experience as it introduced me to STEM-focused courses and a more diverse student body. I can't stress how critical and important these early opportunities are, especially as a first-generation student.
Landing among the stars
When I began mapping out what career I wanted to pursue after college, I gravitated towards the tech industry. I saw it as a channel to directly contribute positive change by improving how people work and live.
Upon joining the tech field, I found out that Latinas only make up approximately 2% of the tech industry. Although it's up to all of us to develop multi-faceted solutions to change this current statistic, I'm a big believer that a key in thriving in the face of adversity is how you respond to the obstacles in your path. 
Throughout my journey, these guiding principles and lessons learned have helped me get to where I am today: 
Be authentic and resilient

Advocate your potential and believe in yourself

Build and nurture your networks

Give back often and lift up others

Dale ganas (give it your all) and let your work speak for itself

Explore unconventional paths and take risks
When shooting for the moon, even if you miss, you'll land among the stars. When all else fails, remember this one thing: Si, se puede! Yes, you can!