It's a big day for our small team here at SeekWell. Even more importantly, it's an incredible opportunity for our customers to get more value from their data. 
I'm thrilled to announce that SeekWell has entered into a definitive agreement to be acquired by ThoughtSpot.
Who exactly is ThoughtSpot? 
ThoughtSpot is the company that created the market for search-driven analytics. Founded in 2012, they had a bold mission to create a more fact-driven world by empowering everyone to analyze data. Their idea to realize this mission was deceptively simple. What if anyone could ask and answer data questions in the same way they use their favorite consumer apps like Spotify, Google, or Amazon? 
Since then, they've been helping customers like Walmart, BT, Daimler, Medtronic, Hulu, Royal Bank of Canada, Bank of the West, Siemens, and Nationwide Building Society put the power of data in the hands of every employee. They partner with every major cloud provider, including Snowflake, Amazon, Microsoft, Google, and Databricks. Wherever companies have cloud data, ThoughtSpot is helping them turn it into insights.
What's in it for you
It's this shared goal of helping our customers unlock the value of their data that makes the combination of SeekWell and ThoughtSpot so powerful and creates such deep alignment. With ThoughtSpot and SeekWell working together, it's never been easier to get insights from your cloud data, and then get that data back into the business apps that drive your organization. 
As we integrate more tightly with ThoughtSpot, that process is going to get even simpler and be more accessible to people that don't know SQL. You'll be able to use search to find cloud data, modify it in a productivity app like Google spreadsheets, then push it into apps like Facebook Audiences, Zendesk, or Salesforce.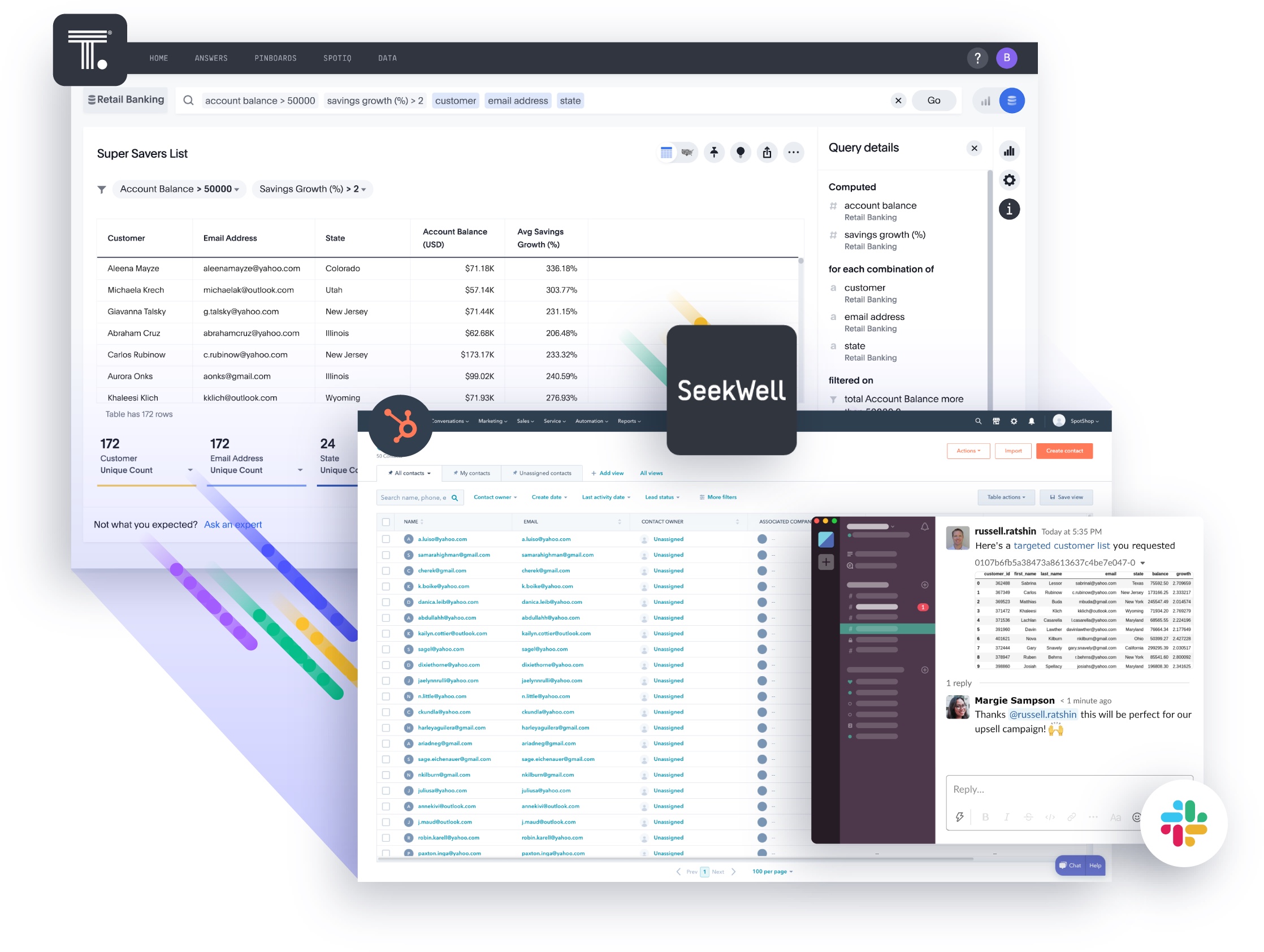 This entire flow can be automated, meaning you can prioritize the important work of analytics and delivering impact with data instead of managing your data operations. 
When I first spoke with the team at ThoughtSpot, it was clear we shared a culture of doing whatever it takes to see customers succeed. We're both relentless in our drive to help you scale the impact of data throughout your organization. 
That's why there will be no disruption of your current use of SeekWell. You'll still be able to use SQL to get data from your warehouse and sync it into apps that drive performance. Over time, you'll get so much more. From expanded support to new R&D efforts as part of the larger ThoughtSpot ecosystem, you'll get early access to cutting edge features from ThoughtSpot to help you operationalize analytics in every facet of your business. 
If you want to learn more, check out this free trial. I can't wait to see what you do with SeekWell and ThoughtSpot.