I recently returned from London and Frankfurt, from our first European Thought.Leaders events. It was the first time I represented ThoughtSpot publicly, so I confess I was nervous and a little emotional.

It also felt like the universe had come full circle, given I actually started my career in Business Intelligence while working for Dow Chemical in Europe back in the early 1990s, and even attended my first OLAP class in 1993, taught by EF Codd himself!
Fast forward 25 years and in the weeks leading up to the ThoughtSpot event, I was more nervous than usual. This is the reality of a perfectionist: I am always anxious about whether or not my talk will resonate: have I made it worth your time to attend? But this time, I was also feeling the responsibility of our 400+ employees. It's not just me, Cindi at BI Scorecard succeeding or failing, nor is it me the VP of Research at Gartner, with 2000 other industry analysts to back me.
It's now me, Cindi, ThoughtSpot's Chief Data Strategy Officer.
Here are a few key takeaways from both events:
It Takes More Than Tech to Transform. We know that it takes so much more than technology when you are trying to transform your business to digital and trying to mature your analytics capabilities. That's why we have structured these events differently. As I wrote in a blog after attending Thought.Leaders in New York City, they are long on thought leadership and networking and short on technical product pitches specifically to help data leaders overcome other barriers to change.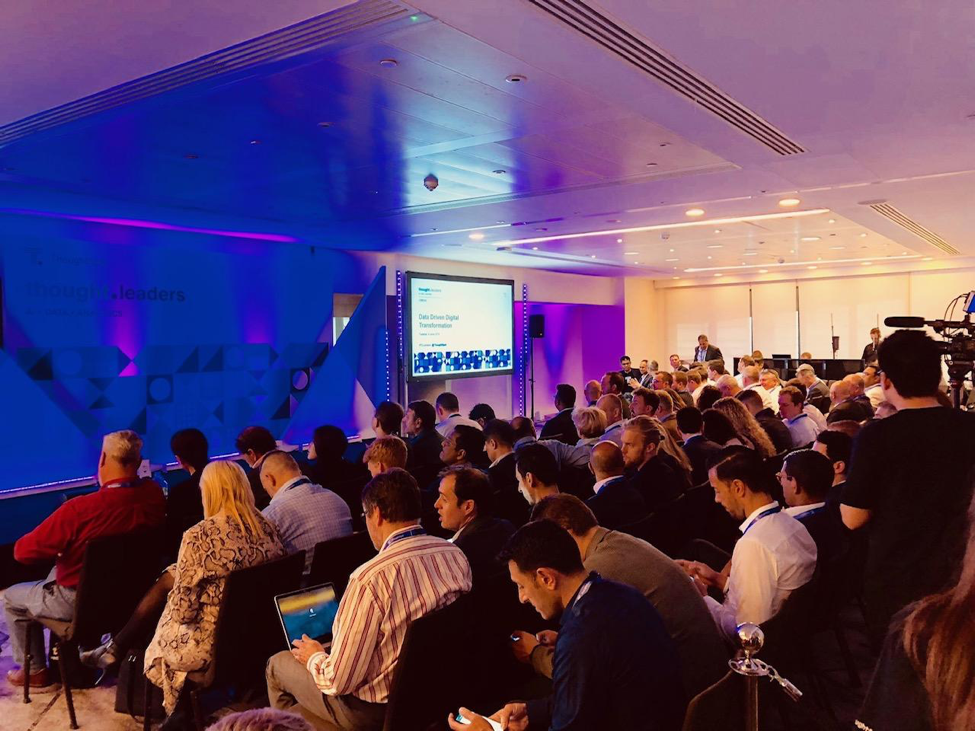 Culture, talent, vision, aligning to business outcomes, and managing technical debt are some of the bigger challenges organizations in every industry are facing. At Thought.Leaders, the conversation focused on these issues as much, if not more, than what's new in analytics from a technology perspective.
Innovation Requires Failure - and Lots of It. At these events, it was an honor to hear Mr. Bharat Bansal and Dr. Florian Mueller, leaders from Bain, speak - a first for me. I loved the quote from Thomas Edison: "I haven't failed. I just found 10,000 ways that didn't work."

Dr. Mueller and Mr. Bansal also quoted research from Forrester that shows only 25% of AI projects reach or exceed their objectives. This didn't surprise me, though. We are still early days in some respects when it comes to AI and augmented analytics, and many organizations are incubating.
Designing for Trust is Critical to AI Adoption. No doubt, I could happily start my day every day listening to our co-founder and Executive Chairman, Ajeet Singh talk about his views and vision (man, he has some big ideas!). He spoke about the importance of trust as a driver for AI adoption, and laid out the STAR model for designing trust in AI: Security, Transparency, Accuracy, Relevance. I appreciated the analogy of his self-driving car and how he trusts Tesla's AI-powered driving with his nine-year-old son's life. He posed the question and challenge to the industry: do we trust our AI analytics results to the same degree?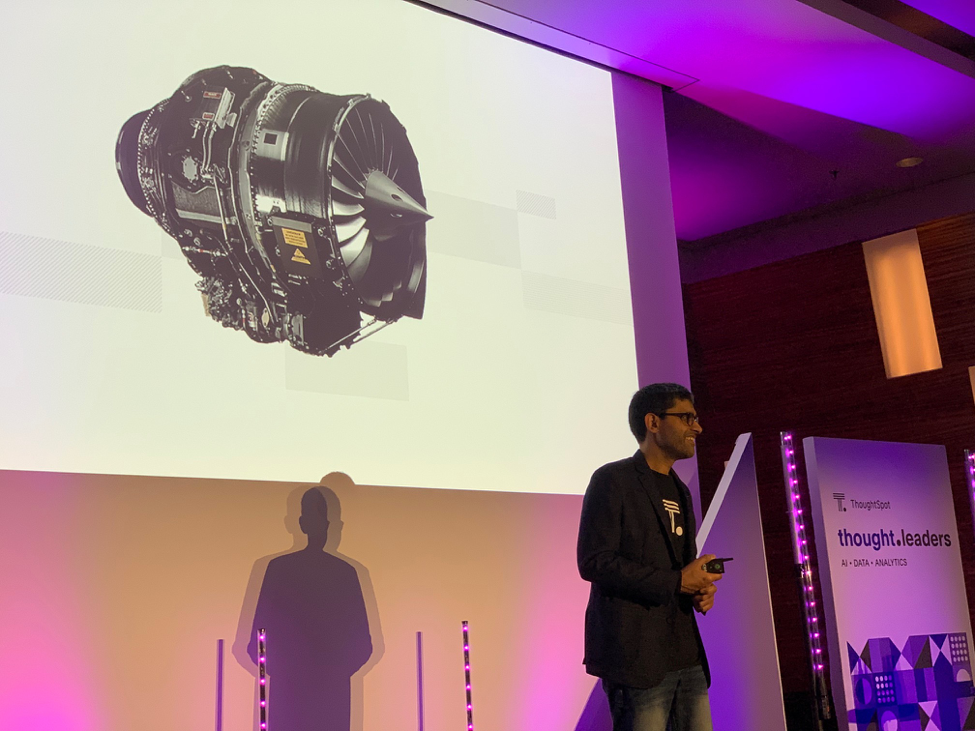 Transformation Requires Fearlessness. My talk centered not only on themes from my blog on being a fearless leader, but touched on the broader challenges our industry faces in talent gap and lack of diversity. In Europe, IDC and the Lisbon Council estimate there is currently a 571K shortage of data workers, which is expected to worsen to 925K by 2025. While almost every data and analytics leader is worried about the talent gap, only one quarter have a plan to address it. Seriously?! Folks, you need a plan. And that plan can't be relying exclusively on universities. You need to invest in upskilling and reskilling your current employees.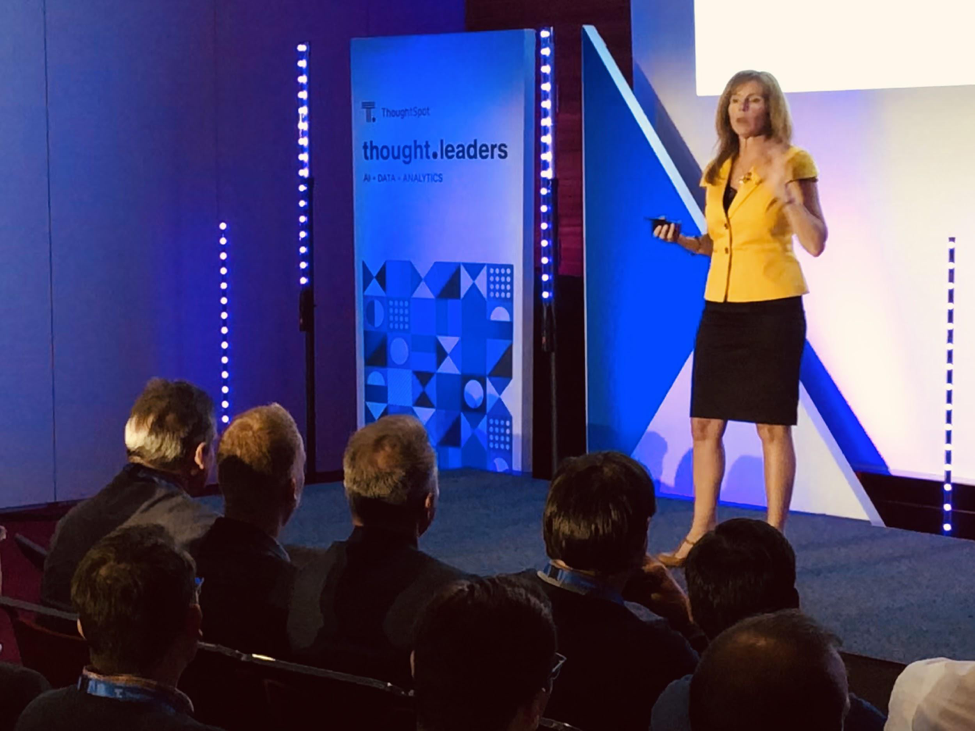 The other big concern revolves around the lack of diversity. When we lack diversity of thought, we risk baking our unconscious biases into algorithms. This can lead to bias at scale. Gender is just one type of diversity and one of the few areas for which there is measurable data about (European's do not track ethnic diversity in the workforce for legal reasons.). In the UK, only 22% of the current ICT workforce is female - slightly lower last year. In Germany, it is about 13.5% in big data, as estimated by Women in Big Data in Germany. Despite these discouraging statistics, it was both surprising and reassuring to me the number of men who thanked me for bringing up this delicate, but important topic.
Customers Lead the Way. For me, the best part of any industry event are stories from real customers actually impacting their business with data and analytics. It is a privilege that ThoughtSpot serves some of the biggest, most innovative organizations in their every major industry vertical.
At the London event, we heard from:
CWT's Craig Haughan, Vice President, Head of Development, who shared how they are embedding ThoughtSpot as part of their AnswerIQ application for customers. Congratulations to CIO Andrew Jordan for recently being named one of the top CIOs.

BT's Vijay Patel, Project Manager - Service Transformation, who described their plans to ultimately deploy ThoughtSpot to 2.5 million subscribers and have already seen how easier access to data and better insights with embedded analytics has helped them improve their net promoter scores.

Vodafone's Natalie Longhurst, Business Manager to Global Commercial & Operations Director, who is just getting started, but described how ThoughtSpot is being driven from the business. As Natalie put it, "I'm a business user. I know the questions to ask. But it's an endless cycle. Requirements are old as soon you state them."
In Germany:
Daimler's Florian Tissen, Data Engineer, shared how they are optimizing operations by closing the gap between data and decision makers.

Payback's Andreas Kretschmer, Director, discussed how search & AI-driven analytics are helping them to ask more complex questions.

Uniper's Florian Cermak, Head of Data Operations – Reporting, discussed how they're empowering new decision makers with the ability to ask and answer data questions. 
I feel blessed to work in a great industry with so many passionate, bright people. I hope you will join us at Beyond 2019 this October in Dallas, Texas for more discussions around the future of data and AI, and what's needed to get us as an industry there sooner.