There's a scene in the opening of the Avengers: Endgame, where after the action and madness of Infinity War, Thanos is sitting and watching the sunset peacefully.
This morning feels like that in the world of analytics and BI. After Google's acquisition of Looker last week, and Salesforce's buyout of Tableau this morning, the space feels supercharged with excitement despite being less crowded now. And these weren't small acquisitions for a few hundred million.
The fact that almost $20B was spent to acquire these two companies tells us a few things:
1. A new approach is needed: In the last decade, data collection methods have changed dramatically, and so should the technologies we use to analyze them. In today's fast moving world, IoT, Social Media, and cloud data platforms are creating more data with more velocity than ever before. The whole data pipeline needs to be rebuilt if companies want to tap into this potential instead of being crushed by it. This industry is used to seeing such radical shift every decade. Here's the side-by-side comparison of Gartner MQ of 2009 and 2019.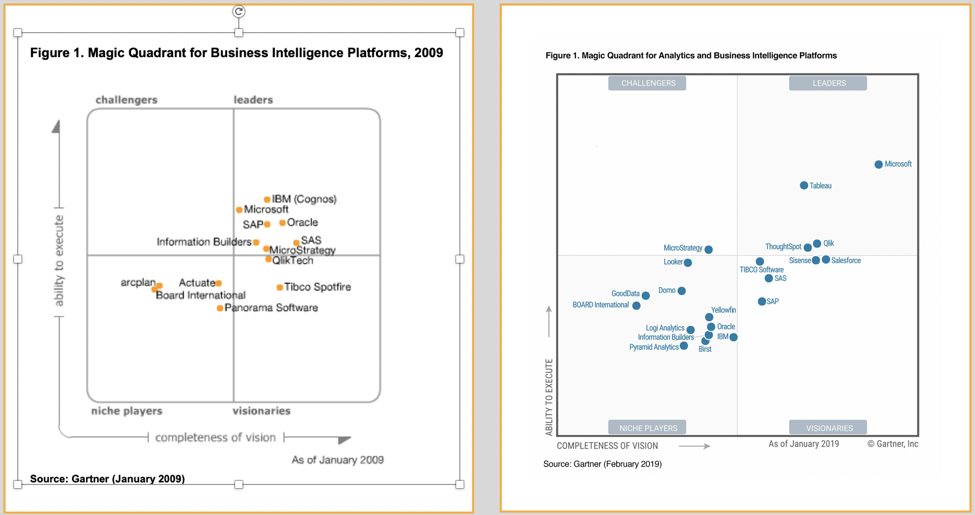 2. Innovator's dilemma is real: 10 years ago, the incumbents bought their way into the exciting world of analytics innovation. IBM acquired  Cognos, SAP acquiredBusiness Objects, and Oracle acquired Hyperion. The resulting thinning of the herd gave speed to the growth of Tableau and Qlik.
3. Real value creation is about delivering business value and customer delight: In today's data-driven world, I can't think of any other technology that gets closer to business outcome than analytics. Delivering simplified visualizations was the problem of the past ten years and Tableau solved it better than anyone else. And they did it while creating a passionate community around them.
4. Looking ahead is the only way to stay ahead: As data complexity and volumes continue to grow in the coming decade, the problem won't just be about visualizing data, but understanding even where to begin looking. There's so much data being created by people and applications that getting answers to known questions won't be  enough. We all need a little help in even asking the right questions.
I think there are 3 key areas to get right as we move into the next phase of evolution
Search and AI: Every business person needs to be able to ask questions and get answers on their own, which requires new, natural interfaces people intuitively know how to use.

Cloud and on-prem: With data living in more places than ever before, analytics platforms need to tap into the knowledge across all these different environments.

Mobile and self-driving: Decisions are being made in more places by more people than ever before; we need to empower these decision makers with analytics whenever and wherever decisions are being made.
These are extraordinarily complicated areas to innovate, and will require a new architectural foundation and years of investments. That's what makes ThoughtSpot a special company. We love being in the thick of things. As the youngest, newest leader in the space, we know we have a responsibility to innovate and advance this agenda for the benefit of our customers, partners, and the industry at large.
I know that there will be a lot of hot takes on these acquisitions by the experts. Some will second guess their decisions to be acquired instead of standing alone as an independent company. All I can say is that I am confident that the leaders and investors of these companies would have considered all the options and picked what they felt was the best for them.
Every company takes its own path, and I will leave it with this quote from Endgame:
"Everyone fails at what they are supposed to be, Thor. Measure of a person, a hero, is how well they succeed at being who they are."
We, at ThoughtSpot, are happy for the people involved with Looker and Tableau, and congratulate them for the successful outcomes.