This is part of our ongoing SpotOn Sports: The Data of Cricket series, where leading pundits tackle the toughest questions in cricket by using data & analytics. 
It's that time again. The cricket world cup is upon us! The cup promises to be an exciting one, especially with India, a favourite, being led by the greatest batsman of this era, Virat Kohli.
There is no doubt that Kohli leads the team from the front to win matches. But exactly how critical is Kohli the batsman for India to win in ODIs? Is India too reliant on him? How does this compare with the all-time greats and their respective teams?
To truly understand Kohli's impact, I turned to my friends at ThoughtSpot, a company I'm advising on the use of analytics in sports. ThoughtSpot makes software that's like Google for numbers - you can ask data questions using their search technology and get instant answers just like Google.
Comparing Runs in Winning Causes
The first thing I wanted to understand was how Kohli stacked up against other batsmen in terms of runs in winning causes. With a quick search, I found Kohli averages an astounding 77.2 runs in winning causes, the highest in the history of ODI cricket. Kohli leads the best finishers of the game - Dhoni, Root, De Villiers, and Bevan – comfortably, with a gap of almost 7 runs.
But it would be unfair to compare averages of today's batsmen with those of earlier generations, as cricket has increasingly become a batsman's game. The chart below plots the batting average against the percentage of team runs scored in winning causes for batsmen who have scored more than 3000 ODI runs. It highlights the top 10 batsmen by percentage of runs. Here too, Kohli's 21.7% stands tall among the all-time legends of the game like Gordon Greenidge, Brian Lara, and Sachin Tendulkar.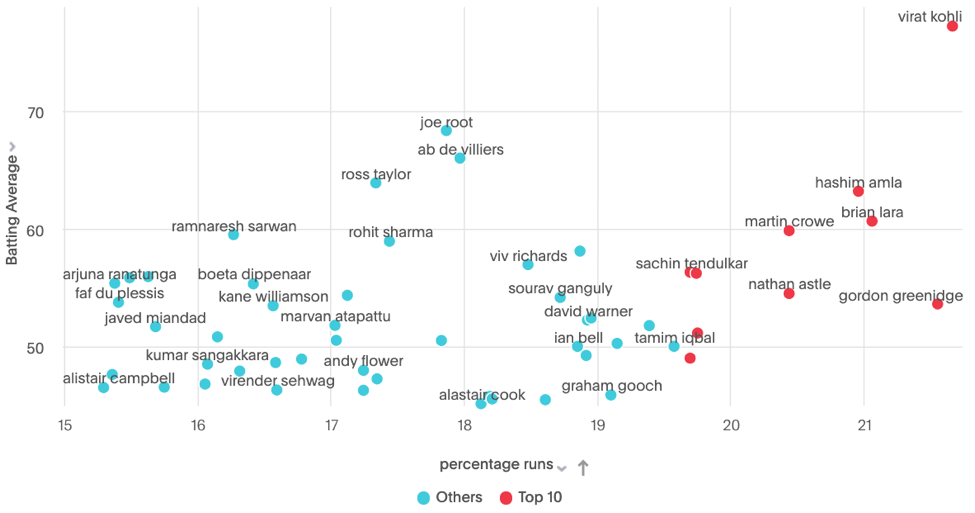 Batsmen with the highest contribution to team's runs in wins
How does this compare with his contemporaries - the 'Fab 4'? Root, Williamson, and Smith have high batting averages following the trends in modern day cricket, but they seem to be significantly less critical for their teams than Kohli. In wins, Kohli scores 9 more runs on average and 4% more of his team's runs than Root, who is the closest competitor.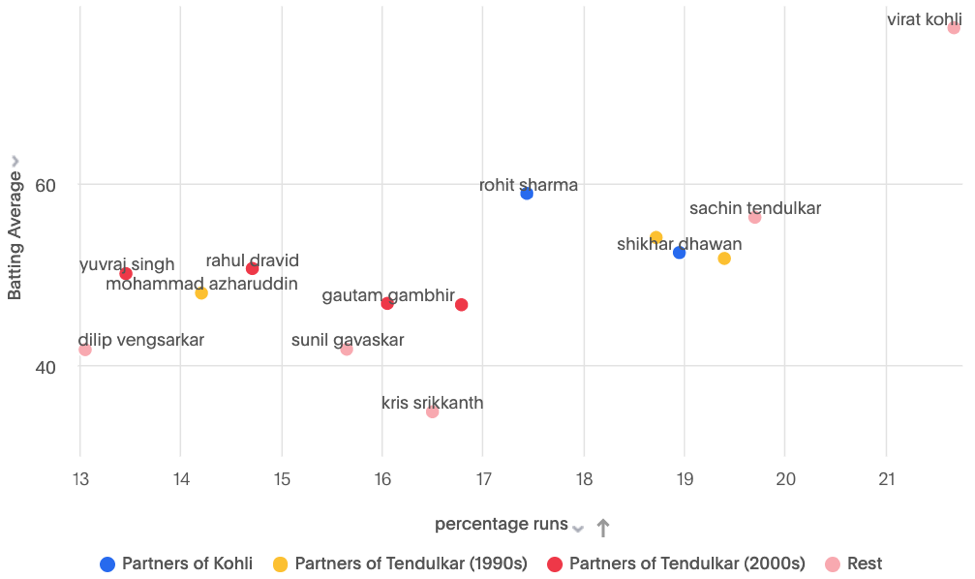 Indian batsmen with highest contribution to team's runs in wins
Statistically, Kohli has contributed more runs to his team's wins than any other batsman - even Tendulkar. Filtering the above data point for Indians contextualizes the statistic. Through his career, Tendulkar had the support of 3-4 other batsmen in scoring the bulk of the runs. Sidhu, Azharuddin, Ganguly in the 1990s and Dravid, Sehwag, Gambhir, Yuvraj in the 2000s scored runs at the other end. Kohli, on the other hand, has only had support from Dhawan and Sharma. It demonstrates just how heavily India relies on this trio to score their runs. Who would have thought India's dependence on its best batsman was going to increase after Tendulkar's retirement!
It's All About the Chase
It's clear that Kohli contributes heavily to India's success in terms of runs. But to truly understand the importance of Kohli to team India, Kohli's success in chases needs to be understood.
Analyzing the data in ThoughtSpot pulled out a key insight. In successful chases, Kohli's average jumps to a mind boggling 96.2, scoring 25.7% of the team's runs. Only Dhoni, the greatest finisher of all time, beats him. His 100+ average is due in part to his ability to finish games without getting out. India is reliant on Dhoni to close out games - but they rely on Kohli to score the majority of the runs before Dhoni even comes to the crease.
And Kohli has been doing it for several years, as demonstrated by the 5004 runs he has amassed in successful chases. He is about to overtake Tendulkar, who took twice as many innings to score nearly the same amount of runs. This stands in stark contrast with India's reliance on Kohli (2nd innings wins), compared to that on Tendulkar (1st innings wins).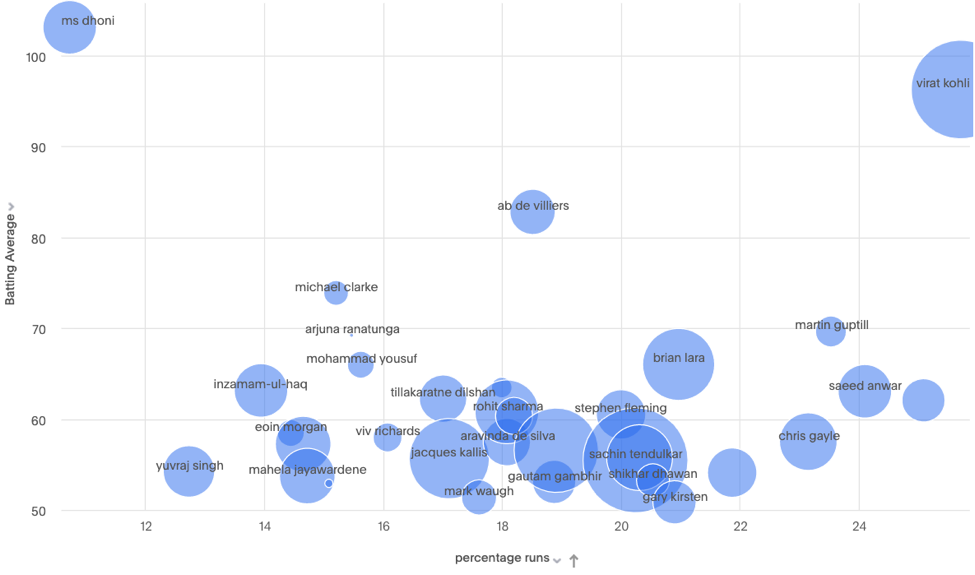 Batsmen with highest contribution to team's runs in winning chases. Bubble size indicates total runs scored. Min 3000 runs.
By asking the right questions and digging into the data to find the answer, it's clear Kohli has an outsized impact on India's success.
But what's the secret to his success? Check out my next blog as part of my "The Data of Cricket" series, where I'll analyze what factors are propelling Kohli - and India - to victory.