We're all familiar with how Google Search revolutionized information processing for consumers. The ingenious combination of AI with a new way to organize content on the web created a user-friendly experience that forever changed how the world finds relevant information on the internet. 
Today, a similar revolution is taking place inside modern businesses. With more data than ever before, organizations are turning to search and AI to put data directly into the hands of frontline decision-makers. Data apps have become critical conduits for making insights accessible to all. And to help power this new age of app-driven data democratization, we are proud to announce our support for Snowpark to make building search and AI-driven data apps on the Data Cloud easier than ever before.
Snowpark + ThoughtSpot
Snowpark's new developer experience allows data engineers, data scientists, and developers to write code in their languages of choice. They can use familiar programming concepts and then execute workloads such as ETL/ELT, data preparation, and feature engineering, all without ever leaving the Snowflake platform. By combining this new technology with ThoughtSpot, these same users can expose powerful insights directly to business users through search and AI. It's all the scalability, performance, and security of Snowflake paired with the powerful, consumer-grade analytics of ThoughtSpot.
Beginning today, joint customers of ThoughtSpot and Snowflake using the new Snowpark developer experience will be able to:
Build, test, iterate, and launch interactive data apps or embed search-driven analytics with ThoughtSpot Everywhere that leverage Snowpark and subsequently drive richer analytics experiences.

Drive better decisions and ROI from AI investments by putting the power of AI and machine learning in the hands of business users.

Create efficient data to decision pipelines by helping both technical and nontechnical users engage with data at scale.
The first Snowpark feature to roll out is Java User Defined Functions which allow for complex logic to be called directly from SQL.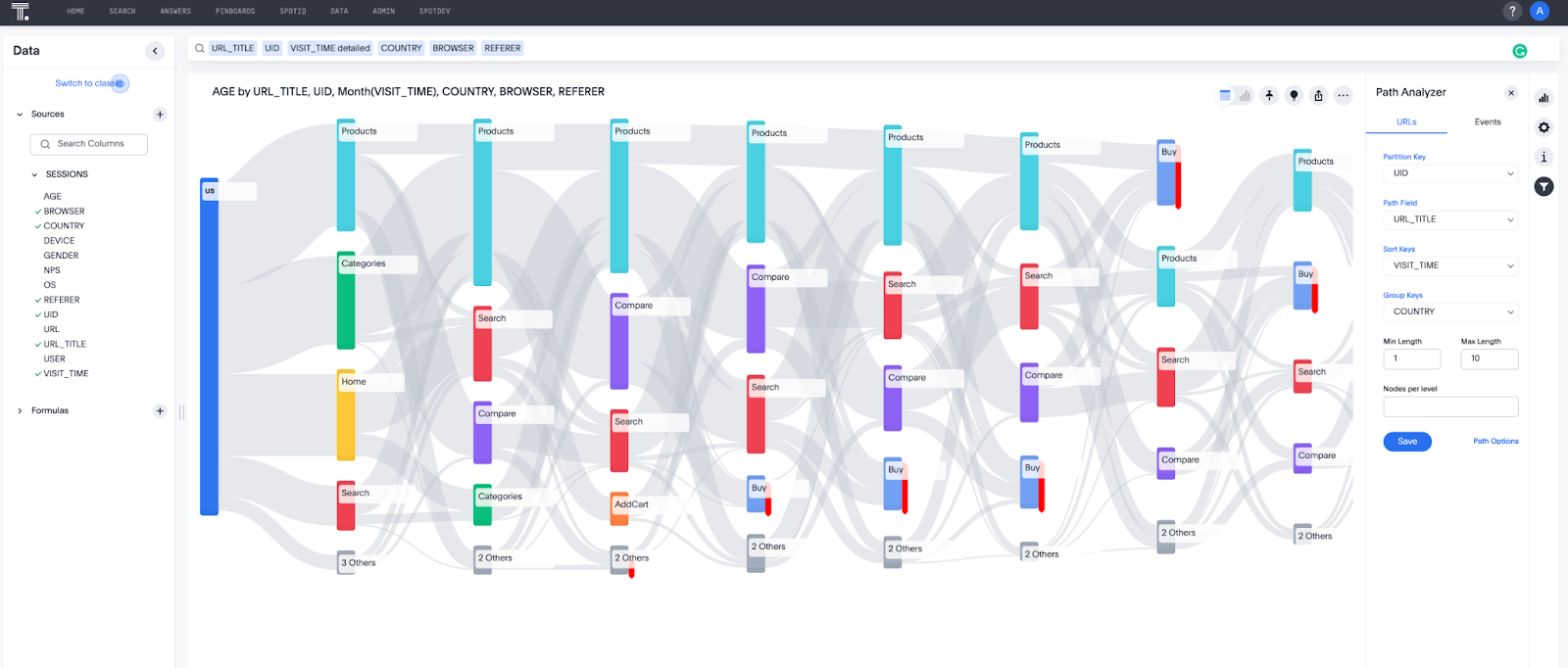 User journey analysis has become an extremely valuable tool for any organization looking to understand the customer journey across their website properties as well as product. The rise of product-led growth for example, forces marketers to extend revenue attribution beyond merely sales and marketing to activity in the product itself. With Snowpark Java UDFs anyone can use search to gain insight into areas where there is the opportunity for improvement in their journey. At the same time, ThoughtSpot natively provides a Sankey chart to visualize this type of data, creating a fully interactive solution that can be applied to a variety of data models.
Art of the possible
The ability to deliver advanced user journey analysis to joint customers of ThoughtSpot and Snowflake is only the start. As Snowpark evolves and the ThoughtSpot team develops additional functions, our joint customers will benefit too. 
If you're interested in testing user journey analysis and other advanced functions with ThoughtSpot for Snowpark, you can try Snowflake and ThoughtSpot free for yourself today.