My journey in the IT industry started 3 years ago when I joined Hewlett Packard Enterprise (HPE) as a Technology Consultant. After 2 years at HPE working in the space of business service management, I decided it was time to pursue my higher education and change domains. I am currently pursuing my Master's in Management Information Systems with a focus on Business Intelligence & Analytics.
I spent this past summer as a Product Management Intern at ThoughtSpot, headquartered in, Palo Alto in the heart of Silicon Valley. Moving from Bangalore, India – dubbed The Silicon Valley of India – to The Silicon Valley has been the most adventurous and educating journey of my life, both personally and professionally.
At HPE, I experienced corporate life at one of most noted enterprises in the world of technology. I also got the chance to work with two multi-billion-dollar clients - an American insurance giant and a professional services powerhouse. At ThoughtSpot, I spent 12 amazing weeks at one of the fastest growing startups in the BI and Analytics industry. Working in both environments has given me a unique understanding of working in technology companies at very different stages of growth.
How the Work Gets Done
One of the first, and most obvious points of comparison, revolves around how the work actually gets done.
An enterprise the size of HPE is sustains itself by leveraging a lot of internal business processes. These processes intended to improve quality, productivity, and efficiency in the company. Often, however, these same processes proved to be roadblocks when it came to making rapid progress on a project. An idea required many rounds of approvals from multiple stakeholders, collaboration across portfolios and product lines, and documentation. And that's just to be tested, to say nothing of being implemented in production environments.
ThoughtSpot, on the other hand, was a very different experience. Instead of spending time orchestrating internal processes, it took just a 15-minute discussion with my manager to drive a company-wide change aimed at improving consistency. A short 10-feet walk, 5 minutes conversation with product owner and 30 minutes of technical reconfiguration later, we had gotten rid of inconsistencies that affected more than 3 verticals in the company. In more ways than one, the fearless and curious approach to solve problems in a startup ends up improving productivity as compared to a more cautious and cagey approach in a massive enterprise.
The Breadth of Work
Another point to consider when deciding between a large enterprise and a startup is the diversity of projects in which you'll actively be involved.
By the end of my stint at HPE, I had completed only 2 projects. It took me a lot of time for me to prove myself. College hires were not given a lot of responsibility from the get-go, spending more time shadowing the experienced resources who were entrusted with critical work. Instead, we handled a lot of repetitive work, which didn't help me grow as quickly as I knew I could. By the time I won the trust of my delivery manager, I had already completed close to a year at HPE. And I was one of the fast growing ones there!
At ThoughtSpot, things were different. My manager was able to gauge my aptitude and willingness to learn very early and showed a lot of faith in my ability. By the end of my first month, I was already on my way to deliver two projects that involved technologies I barely knew. By the end of my 12-week internship, I successfully delivered five different projects that cut across five different aspects of the product – product enablement, product integration, product analytics, infrastructure maintenance, and competitive analysis. It forced me to adapt, learn on the fly, understand new technologies, and do it quickly. While it wasn't easy, this helped me grow and learn faster than ever.
Getting Hands on With the Technology
I even noticed differences when it came to learning the actual technologies I would be working on.
At HPE, we had a predefined new hire onboarding program that involved 2-3 months of classroom lecture sessions and virtual e-learning modules that covered conceptual understanding of all technologies in the HPE Business Service Management portfolio. This was an isolated setup and we only met our seniors after 2-3 months. There was hardly any comprehensive hands-on learning and it ensured a long, slow, and uncomfortable transition into working on an actual project with a client.
Being thrown into the deep end of the pool at ThoughtSpot challenged me to learn and embrace new technologies very quickly. Learning on the job in real time meant that I encountered a lot of conceptual and technical challenges – something that helped me ask the right questions and enriched my learning experience. Although I did have some onboarding and official training, it was only for about two days. After that, it was all about making attempts, learning from hurdles, and truly growing.
Teams and Culture
A huge part of any internship is the team you're a part of, and the company culture you operate within.
HPE is a great place to work and is still known for its work-life balance and open culture. I met and worked with a lot of brilliant people at HPE but I still only know a few colleagues personally. There were a few cultural and team events spread across the year, but socializing was predominantly limited to project team members only owing to the sheer sizes of business units. Company level events were usually annual since they had to organized and executed at a very large scale. 
In a span of only 12 weeks, I was part of 2 company-level social events and almost 10 other fun, team-building events that encouraged getting to know fellow ThoughtSpot employees on a personal level.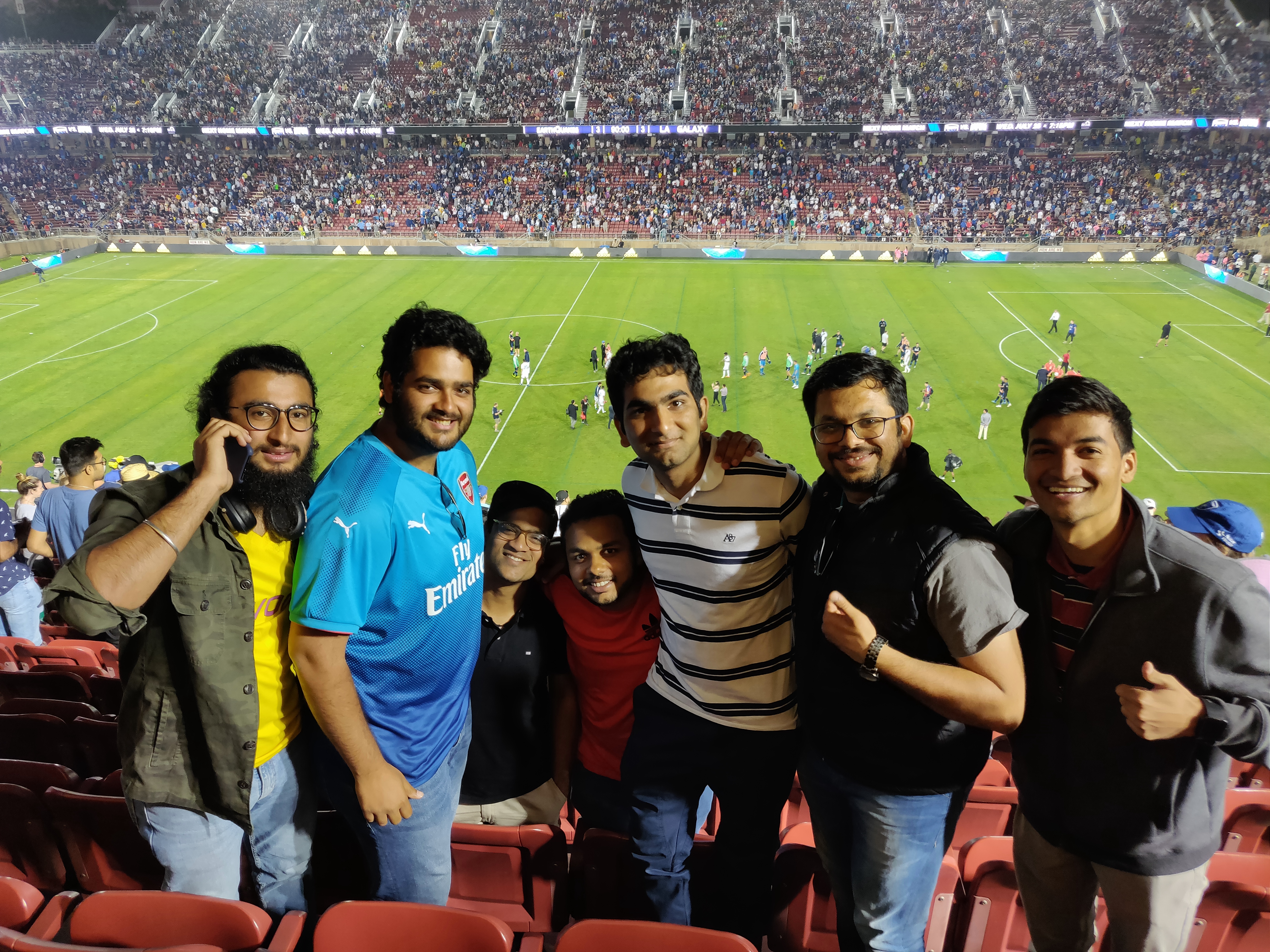 For example, during the hackathon, the rules mandated members from teams from the various departments  of the company and served as a very rich networking experience as well. Just the culture, atmosphere, and frequency of these social events nurtures a real family-like mentality where everyone works together to put the team and the company before any individual, striving for selfless excellence.
Exposure to Leadership
Finally, every intern wants to know how much time they'll get to work with and learn from the people leading a company.
The slow growth at HPE meant that chances to talk technology with subject matter experts, architects and R&D teams were rare and only came by towards the end of my stint. Even the few such conversations that I had, sparked many ideas but the sheer challenge posed by the processes was too hard to overcome and only a few ideas were accepted out of which only one idea was successfully implemented before I left HPE.
At ThoughtSpot, I was collaborating with and learning from directors, engineering architects, and the technical leadership from week 1. I got a chance to converse with the VP and all the directors of product management on a weekly basis. Meetings with such seniority in attendance were an amazing experience and I got first-hand exposure to leadership mentality, enterprise partnerships and company-level decision making.
Overall, I'm very happy with my time working at a startup like ThoughtSpot. Startups aren't for everyone, but if you're someone who likes to learn on the job, get down and dirty with the technology, and build meaningful, lasting connections with colleagues and leaders, I encourage you to consider it!