CDOs are charged with leading their organizations to become more data-driven. In 2021, this mission is more critical as the distance between data-driven organizations and laggards widened. 
For many, this means accelerating digital transformation plans.. Last year, ten-year plans got compressed into a single year. Companies raced to implement new technologies - everything from digital payments, store fronts, chat bots, cloud databases, and augmented analytics solutions. 
Even with new technology, the CDOs I speak with are divided into two camps: those who are flourishing in their business impact and those who are floundering. Of those floundering, a common theme: "We don't have the right people." Getting the right people and managing that change has become one of the greatest challenges - and opportunities - for data leaders today. 
The hard truth about data talent
The pandemic forced us to confront many brutal truths. The data and analytics space was no different. The skills of old and the expertise of yesterday, which many have spent years honing, no longer served as well in 2020. It's a harsh reality. But one that we cannot ignore. 
According to new data from the World Economic Forum, 55.4% of respondents said the lack of skills in their local markets prohibits them from adopting new technologies. Data scientists and analysts were the hardest to find of all. 
This gap extended beyond just the professionals themselves, with 41.4% of respondents citing an inability to find leaders with the right data and analytics skills. Leaders themselves may be too faint-of-heart to truly embrace the culture change required in a digital world – look at the shape of the Fortune 500 today versus 10 years ago. This presents a huge challenge for organizations as they seek to become data driven, as these are the same leaders responsible for creating—and disrupting—a company's culture. And as our own research from polling at our global Thought.Leaders events have shown, culture is still the biggest barrier to building a truly data-driven organization, according to 67% of data and digital transformation leaders. 
So where are all the right people, with the right skills, workstyles, and mindsets? Are the people who blend humility, empathy, analytical thinking, and an appetite for risk truly a rare breed? 
The frank answer is yes … for now. 
New skills for a new world
Leaders need to rethink the skills that are required to help their organizations thrive in the new, data-driven world. The emphasis of process and automation, while valuable, needs to balance with a prioritization of analytical thinking and better listening skills. 
There are three options for getting the right people with the right skills.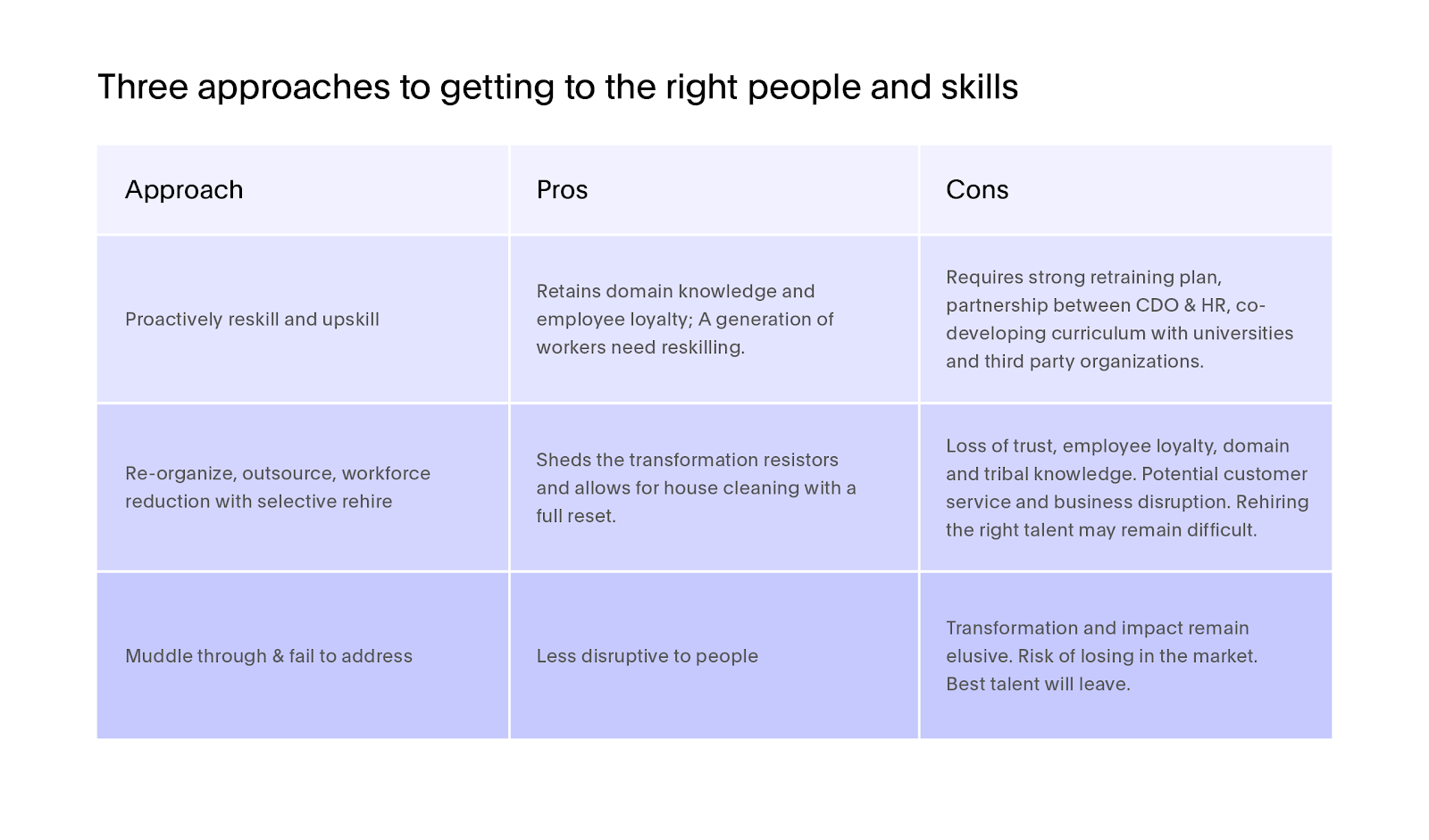 Given how much of the workforce lacks the right skills today, the first approach is the swiftest to action. A recent survey by Vodafone found 60% of future ready businesses take this approach.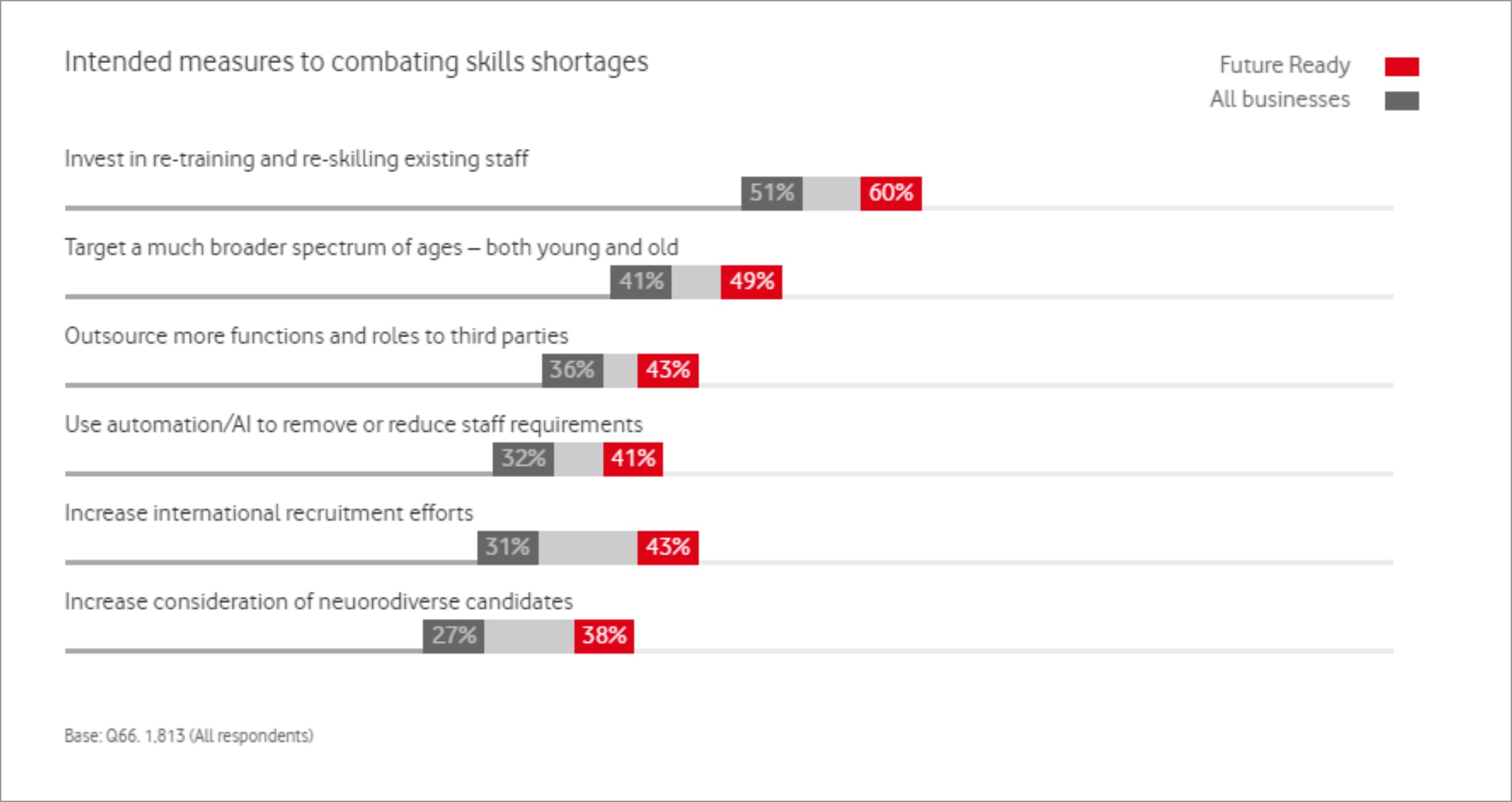 For example, Verizon opted to use the pandemic as an opportunity to invest in training over 20,000 employees on skills to better serve them - and the business - in the future. Ernst and Young partnered with a business school to create a free program for employees to equip them with needed skills. Nationwide Building Society invested £1.5B to develop assessments and corresponding curriculum for their teams. 
Even with the right skills in place, there needs to be a breaking of old processes. According to an HBR study, lack of change management and adoption processes was the top barrier (44%) to extending analytics to front line workers, the new decision makers that are powering success for organizations today. 
So what can you do about it? 
Appoint a leader to specifically drive change management and transformation as part of your modernization strategy. One of their key priorities must be breaking old processes, while building talent with the skills to power new ones.

Partner with people and HR to programmatically assess the current skills in your talent, then develop an ongoing plan to close gaps and upskill. 

Make creating a data fluent organization part of your CDO's charter, and incorporate into your data democratization plans.

Understand well the pull of the tribe and emotional blockers for people's willingness to embrace change. 
Leading the charge on people change management isn't easy. But for CDOs, it's the essential ingredient for true data-driven digital transformation.
For more, download a free copy of my Six Top Trends and Predictions for Data, Analytics, and AI in 2021 ebook or get in touch on LinkedIn.