This blog is part of our ongoing 'Why I joined ThoughtSpot' series, where we profile Spotters from around the world to learn who they are and why they chose a career at ThoughtSpot.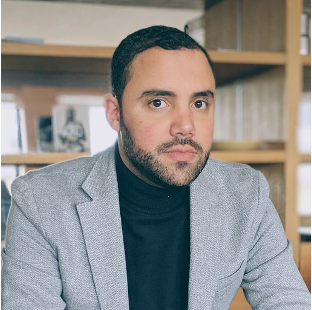 Sophian Abbou has recently joined ThoughtSpot as the Regional Director - Commercial Sales (EMEA) and is based in London. Sophian is responsible for breaking into new commercial markets in Europe. He will also be focusing on hiring and coaching a team to go after the untapped markets in EMEA, while adapting to the local needs, leveraging the partner ecosystem and the creativity of our marketing team to help acquire new customers across these territories. In his spare time, Sophian likes to play tennis. He also travels quite a bit as he has many friends and family in France and in other countries in Europe and North Africa. Welcome to ThoughtSpot, Sophian!
Here's what he has to say about #LifeAtThoughtSpot.
How did you hear about ThoughtSpot?
I started my career at Gartner where I was working in the enterprise segment covering top French companies. From the very beginning, I had a passionate interest in the analytics market. The conversations I enjoyed the most were when we spoke about data and analytics, how companies were using data to become more efficient or gain a competitive edge, and so on. At this point in my career, I decided to join Tableau. They definitely moved the needle in terms of providing ease of use for business analysts, but they hadn't anticipated the cloud or the way people were going to be consuming data.
I knew a few people from Tableau who had joined ThoughtSpot ahead of me. They all said great things about the product, the team, and the culture. After validating all these aspects, I decided ThoughtSpot was where I wanted to be.
What were your top reasons for joining ThoughtSpot?
During the interview process, I had several conversations with members of the EMEA team including Tony Hammond, our VP of Solutions Engineering. Tony and I both share the belief that great companies are built by having the right people. This is something that ThoughtSpot definitely has. Everyone at ThoughtSpot has been extremely welcoming even before I joined the company and the series of conversations I've had have been very enriching.
As for the Commercial segment, I think it is an area that has grown massively in the software industry as more companies are Digital Natives and our product fit is extremely high to either serve the entirety of their analytics needs, complement their existing stack and/or help them improve their own products/services with ThoughtSpot Everywhere, our embedded analytics product. The pace, the nature of the conversations and the fact that commercial customers are generally more data literate makes it fun and challenging to work on this segment. 
How do you plan to use ThoughtSpot in your day-to-day work? 
I'm excited to dig into all of our sales operations data, asking the right questions and drilling down further to create my own path. A lot of my work will be focused on new markets in EMEA, and looking at data on partners, events, and much more for those regions. I can't wait to get my hands on the product so I can start creating insights and helping the team!
What advice do you have for new Spotters joining the team?
Many times, people focus on the compensation package or the title when they are considering a company. While all that is definitely important, my advice is to assess the company, the people, and the industry holistically. For me personally, the data and BI space is extremely interesting. In today's digital world, capturing and creating data-driven insights provides a major competitive advantage for those who can turn insights into action. Just as businesses are demanding more from their data, technology shifts are enabling increased adoption of cloud laaS, cloud data platforms, search and AI, and open APIs. This is where ThoughtSpot comes in. It's always great to be part of a company that is creating such a huge impact in an industry as hot as data - something that people looking to join ThoughtSpot should strongly consider.
Join our team in EMEA and work with Sophian! Check out the open opportunities on our careers page today.