When dealing with payments, speed is king.
Technology is increasing the speed at which innovation happens, and nowhere is that more apparent than how everyday commerce is transacted. Credit cards are now built with tap-to-pay capabilities, if you still even have a physical credit card. Phones have become the new credit card, with data from transactions and mobile banking adding to the overwhelming amount of data that can be collected. For companies like Mastercard, being able to sift through that data to enact strategic and relevant business decisions means it has to be collected, processed, and analyzed. Fast.
After taking two years to build out a system to leverage customer payment data, Senior Vice President of Data & Services at Mastercard, Marcos Peralta was tasked to do the same for business payments. Rather than spend another two years building a similar platform, he turned to external companies to leverage their expertise. Little did he know that a simple proof-of-concept demo with ThoughtSpot would change his life in a mere 24 hours. Read more from his lively conversation with ThoughSpot's Chief Development Officer, Sumeet Arora to see how this happened.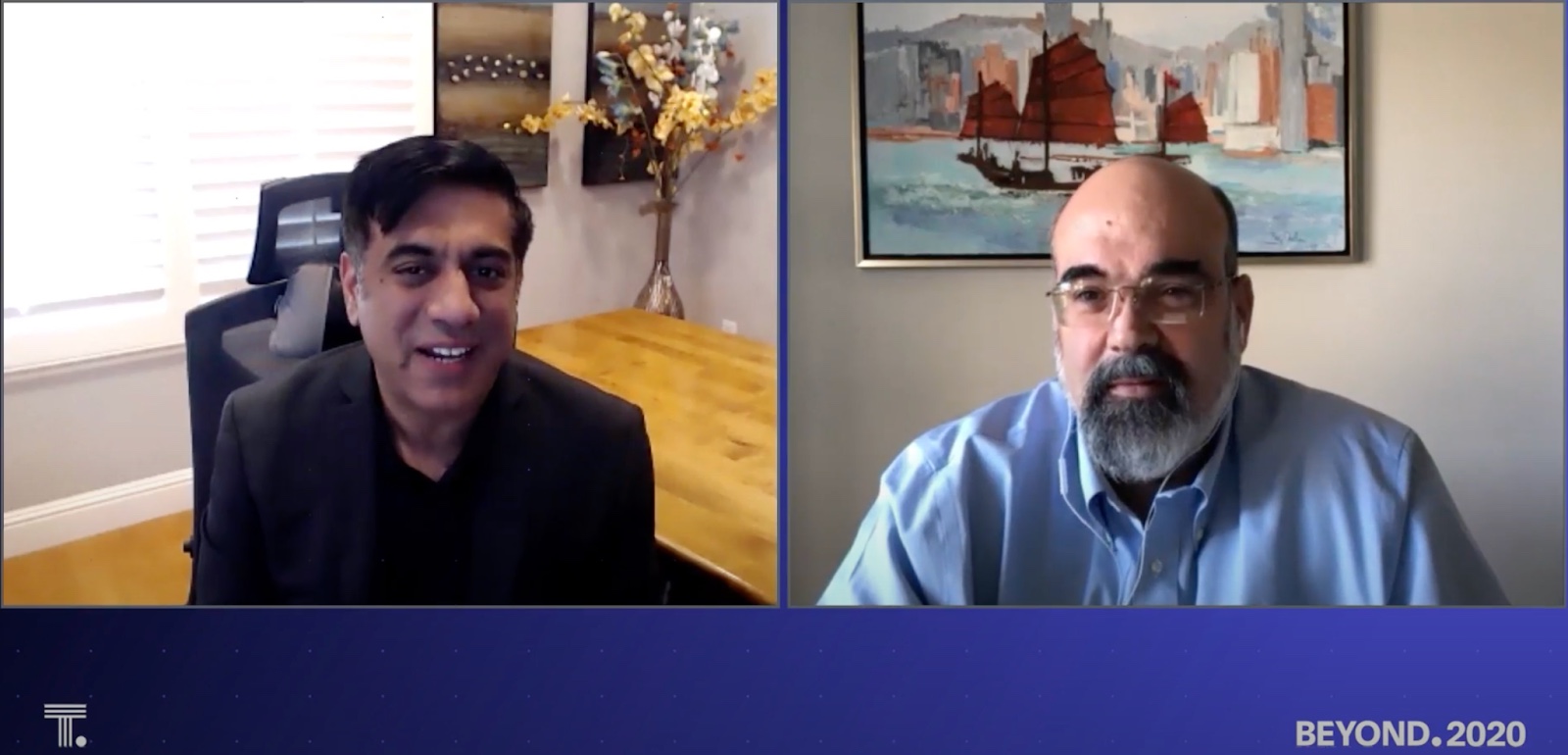 Sumeet Arora: Tell us about some of the challenges you faced leveraging your data to maximize your market opportunity. What you were doing before, and what made you look to ThoughtSpot?
Marcos Peralta: One of the big opportunities Mastercard has been trying to tap into the last year has been business-to-business flows. We have a very strong presence in consumer payments, but we wanted to get into business payments. We had some products there, but all of them were fairly limited. We needed a technology that would help us unlock the untapped market. We started looking outside the company, and that is when I came across ThoughtSpot and was immediately excited by it.
What we're creating for business-to-business payments is a BI tool. There are a ton of BI builds out there and a lot of great recognizable brands, which means lots of competition. What hooked me on ThoughSpot were three things:
The incorporation of AI into search functionality. Anomaly recognition with AI is something that you see across many BI companies. The ability in ThoughtSpot to query the data using natural language programming by using the search bar and talking to the platform directly was a primary selling point. When we demoed the product, we essentially Googled within the data and got graphs and responses that were unique. The final two elements were less flashy but as important in making our decision.

The flexibility of deployment. We knew that we were creating a product that would tap into sources of sensitive data for our clients. They didn't want to send the private data back and forth to Mastercard. The fact that we can deploy ThoughtSpot remotely in multiple cloud environments or on-premise at Mastercard was a big factor for us. That allowed us to work with differing requirements for client privacy and sensitive data protection.

The speed of data collection and consolidation. In consumer payments, we created a pretty good platform. It works, but it took us two years to get there. When we started this journey with ThoughtSpot, we budgeted to spend a full week to work the demo and see how far we got. I got a call at lunch on the first day from the program manager letting me know that the entire data migration to the platform was completed. We had expected it to take three days, and ThoughtSpot completed it in four hours. 
The program manager went on to let me know they were going to start configuring the platform, build pinboards, and create other dashboard setups. Another four hours passed and I got a call saying everything was finished. I couldn't believe it. I had to go see it with my own eyes. ThoughtSpot allowed us to do in one day for B2B payments what took two years for consumer payments. 
SA: How will ThoughtSpot help you open new revenue streams or improve on existing revenue drivers?
MP: As I mentioned, we're working with ThoughtSpot in the B2B space. I think we will bring it to other spaces too, but right now this is our focus. The product that we are working on has two modules.
The first module we call card explorer, in which you can see all the flows and graphs to understand what's going on with each client's payments. We're putting that feature in the hands of analysts as well as bank account managers. These account managers can now go and have fact-based discussions with CFOs and corporate treasurers on how the bank is serving them. 
The second module is called supplier enablement, which helps corporations onboard their suppliers. It allows them to take commercial card payments, real-time payments, and additional forms of modern payments rather than traditional cheques and wires. We're leveraging ThoughtSpot to be able to see the data while going through the workflow. Seeing the data through one consolidated tool allows us to make faster decisions and adds a lot of value. The result is that Mastercard is now getting more payment flows.
ThoughtSpot has been integral in getting commercial cards and real-time payments accepted by both the market and corporate customers. You are unlocking value by doing that. Since the start of Covid-19, it has been important for many of our suppliers, especially small and medium-sized businesses, to get paid faster. We now have these tools to share with them to open up new payment mechanisms to get their revenue sooner. These tools are enabled and run by ThoughtSpot. These modules are just the tip of the iceberg, with more features already in development.
SA: How has your experience with ThoughtSpot Everywhere been so far?
MP: ThoughtSpot Everywhere is working well for us, and my team is pushing for it to be adopted by the rest of the organization. It makes it easy for us to bring the data in quickly, not be overwhelmed by difficult tasks, and conscientiously think of ways we can deploy ThoughtSpot Everywhere to capture even more opportunities. It has been a resounding success for us. We still have to expand B2B payments internationally, but I'm confident that by partnering with ThoughSpot and their technology, we're going to be successful.
Bringing speed and insight to dizzying amounts of data
Mastercard was able to leverage ThoughtSpot's speed, flexibility, and innovative technology to build a new financial data platform in 24 hours. Sign up for a free trial of ThoughtSpot to see how much faster your data can be analyzed, today.