Who are my top sellers?
What kinds of deals have the highest close rate?
How have our sales opportunities changed over time?
As a sales leader, these are just some of the questions you ask yourself every day to keep your team on track. And the answers are in your data. Every form fill, cold call, and MQL is another data point you can use to assess the health of your sales organization. But with so much of your data locked up in Salesforce, it can be difficult to drill down and explore trends or anomalies in a meaningful way. And honestly, who has time for complex data extractions or pivot tables when you've got a quota to crush?
ThoughtSpot for Sales is the fastest way to make sales data accessible to even your most non-technical sellers. With a consumer-grade search and AI-driven analytics experience, you can move beyond "what" happened into the "how" and the "why" to outsell your competition.  Read on for three powerful ways to get started.
1. Measure seller performance with precision
Sometimes the answer to a question about seller performance is simple: Did the seller hit their number? Yes or no? But more often than not, you're looking for deeper insights. Salesforce is an incredible tool, but like most business productivity apps, it simply wasn't built for analytics. It doesn't allow you to investigate your data by asking a second, third, or even fourth follow-up question.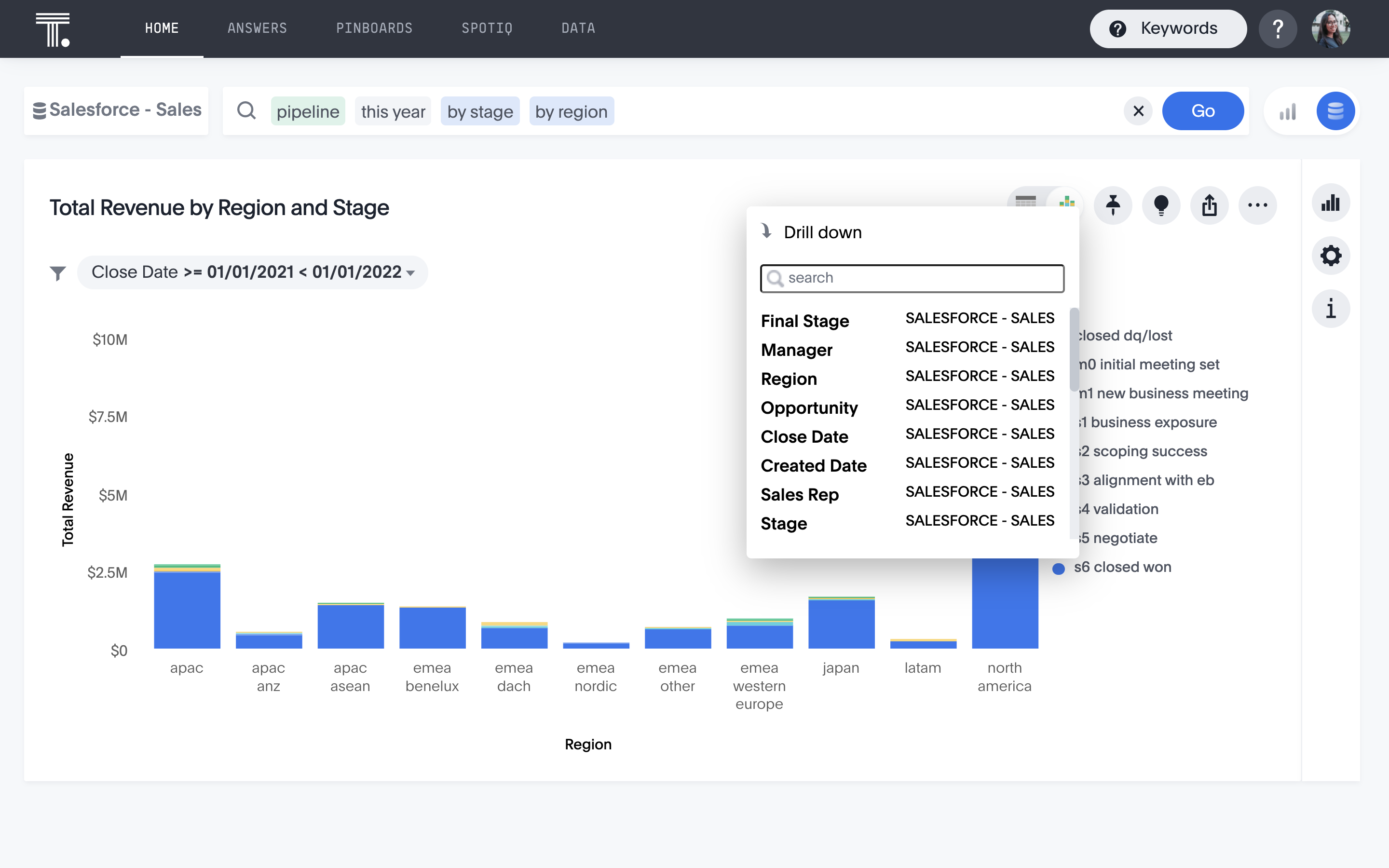 With ThoughtSpot for Sales, you can drill down into the real-time granular details of any Salesforce account to understand which activities are resonating with customers, how sellers are performing relative to peers, and where coaching opportunities exist.
2. Own the story behind your number
In sales, every team member is responsible for owning their number. But how many sellers can say they know the details behind what made them successful? Understanding the details of every stage of your sales pipeline, from M0 to the final contract negotiation, is a critical skill for both sales leaders and individual sellers looking to up their game. In order to keep pace with fast-moving deals, you can't afford to wait days or weeks for broad insights from a static Salesforce report. That time is too valuable.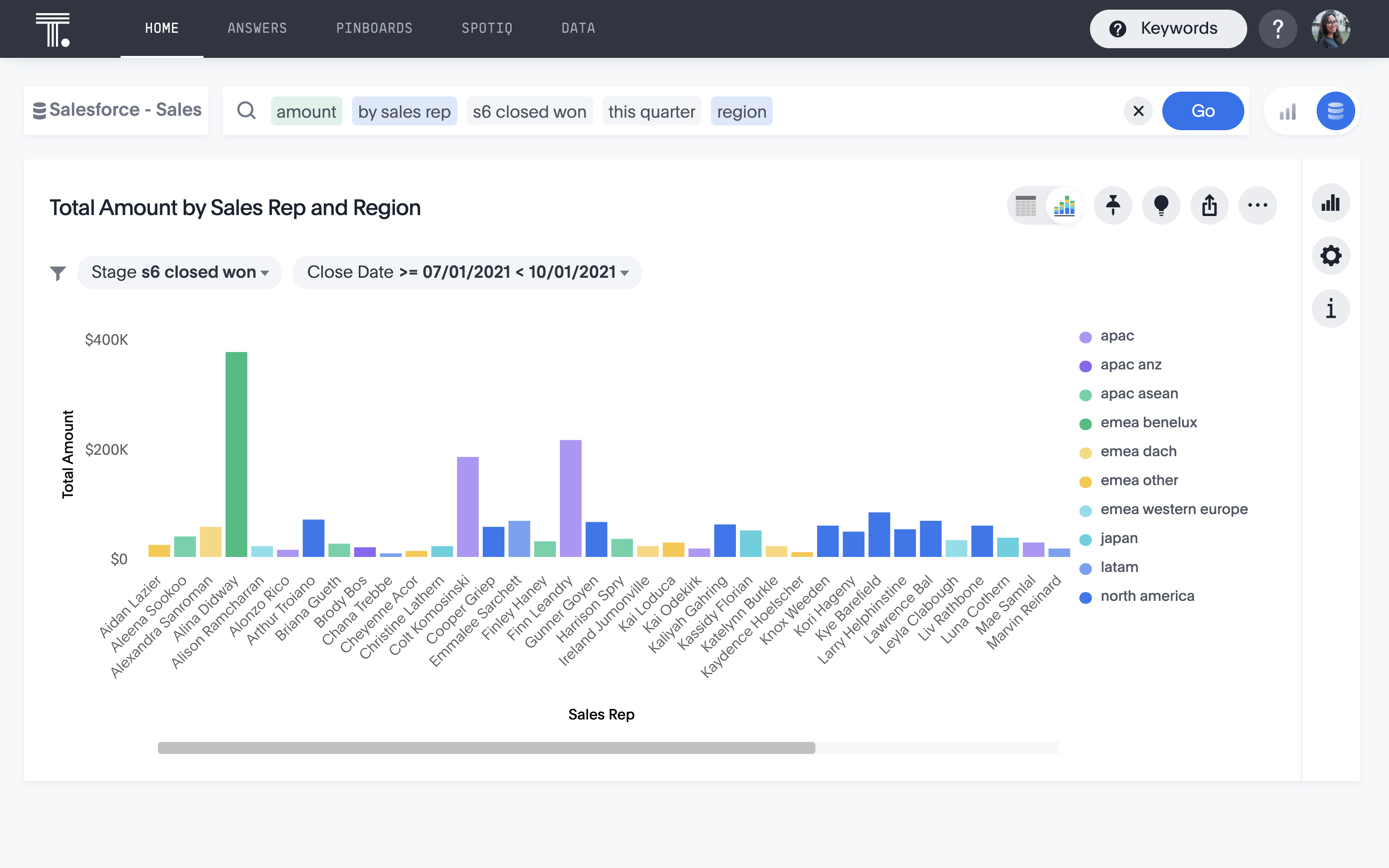 ThoughtSpot for Sales gives you instant insights into buyer trends and anomalies at every stage of the funnel so you can drive predictable pipeline growth and deliver accurate up-to-the-minute forecasts. You can use pre-built pinboard templates to track activity over the course of a week, month, quarter, or year while search answers lets you quickly find and preview the metrics you need in the moment.
3. Replicate seller success at scale
Having an all-star seller on your team is great. But having an entire team of all-stars that learn and grow from each other's wins is even better. Whether it's uncovering a winning strategy for booking that first meeting, or a smart way to position yourself against a top competitor, you need data to determine what messages and behaviors are resonating. Canned Outreach reports that aggregate win data by sequence or team keep your sellers at arm's length from critical insights. ThoughtSpot for Sales delivers them right to your fingertips.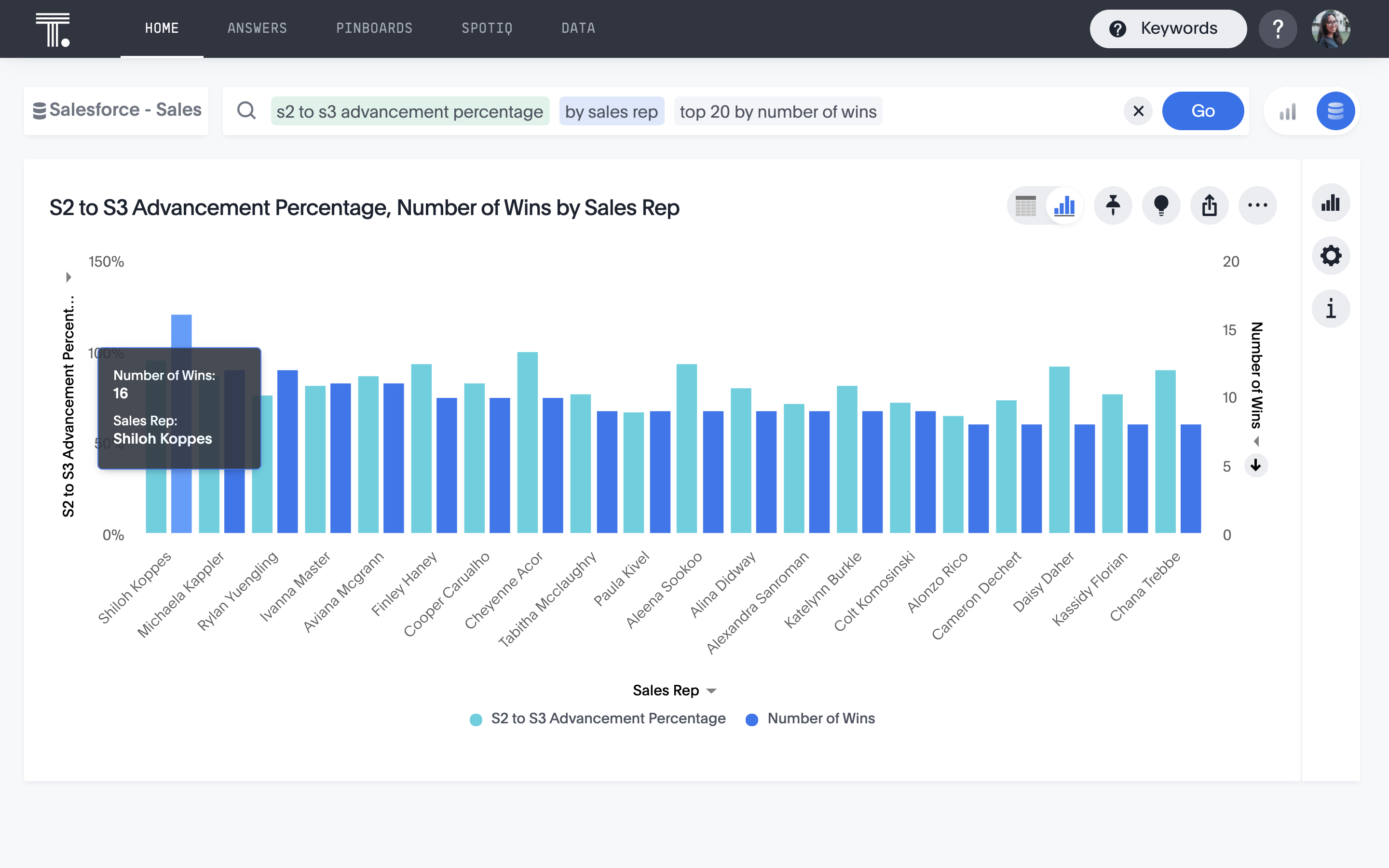 Using ThoughtSpot, you can employ natural language search to easily uncover the actionable, granular insights needed to improve team performance. Individual contributors can create pinboards or use search answers to benchmark their performance against peers to help increase the number of meetings they book. And when trends start to change, or prospects start behaving in unexpected ways, you can receive proactive alerts to quickly pivot your strategy.
See your sales data in action
Sign up for a free trial of ThoughtSpot to get the most out of your sales data today.