When using data to make impactful business decisions, certain doubts may start to arise, like "What does this column exactly mean?" or "Can I trust this data source I want to use?" Questions like these speak to a larger need for increased data literacy and trust in data.
ThoughtSpot continually invests in this area, giving users the confidence to build the correct Answers needed for their analysis—and ensuring they can trust the data they are shown. The ThoughtSpot + Alation connector is the most recent example of our commitment, and Atlan and Collibra connectors are coming soon.
How ThoughtSpot builds trust with data catalog connectors
For many, the data catalog is still the primary home for metadata enrichment and governance. We're not trying to reinvent the wheel, but we do want to enhance the experience to ensure your tire sensors and safety features communicate with each other. Here's what we mean:
While you can locally define descriptions in ThoughtSpot to better understand your data, catalogs like Alation, Atlan, and Collibra already have a wealth of enriched metadata that benefits its users. Think: data descriptions, data quality markers, business owners, etc. Our data catalog integrations allow you to tap into this metadata wealth and surface it in the context where it's needed most—when conducting business analytics. 
In fact, in a Harvard Business Review study, 66% of respondents say that improving data quality and trust is among the top 5 most important factors when looking to enhance the value of data. Additionally, 51% of respondents say improving data integration and single, integrated data views is most important. Here's how our data catalog integrations address both of these opportunities:
Two main ways ThoughtSpot connects with data catalogs:
1. ThoughtSpot connector in catalog: Bringing ThoughtSpot metadata into the catalog
You can use this connector to bring ThoughtSpot metadata for objects like Liveboards, Answers, and Worksheets into your catalog tool of choice. Atlan, Data.World, and Metaphor already have this connector available, and other partners including Alation, Collibra, and SelectStar are actively working on this integration today. 
Here's why it matters:
Bringing ThoughtSpot metadata into your catalog allows you to organize all your enterprise metadata in one place (your catalog tool), enrich the metadata centrally from the catalog, and benefit from data catalog features like data lineage to draw the lineage of your ThoughtSpot objects. You can see how our catalog partner, Atlan, shows the lineage of your ThoughtSpot Liveboard in the example below. 
2. Catalog connector in ThoughtSpot: Surfacing catalog metadata in ThoughtSpot 
For this component, a data catalog connector is available in ThoughtSpot. This connector empowers users to bring enriched metadata fields from their data catalog—like description, data quality markers, business owners, and synonyms—and surface them in ThoughtSpot wherever needed. We are excited to announce that ThoughtSpot's Alation connector is now available, and Atlan and Collibra connectors are coming soon.
Here's why it matters: 
When business users have data reliability questions, they can now view column/table descriptions and column/table verification status to better understand and trust the data. This empowers users to build accurate and trusted Answers in ThoughtSpot. 
How does the Alation integration work?
To begin, the Admin can assign users the new "Can manage catalog" privilege. Users with this privilege can go to the new Data Governance page in the Data Workspace tab and they will see the Alation catalog connector.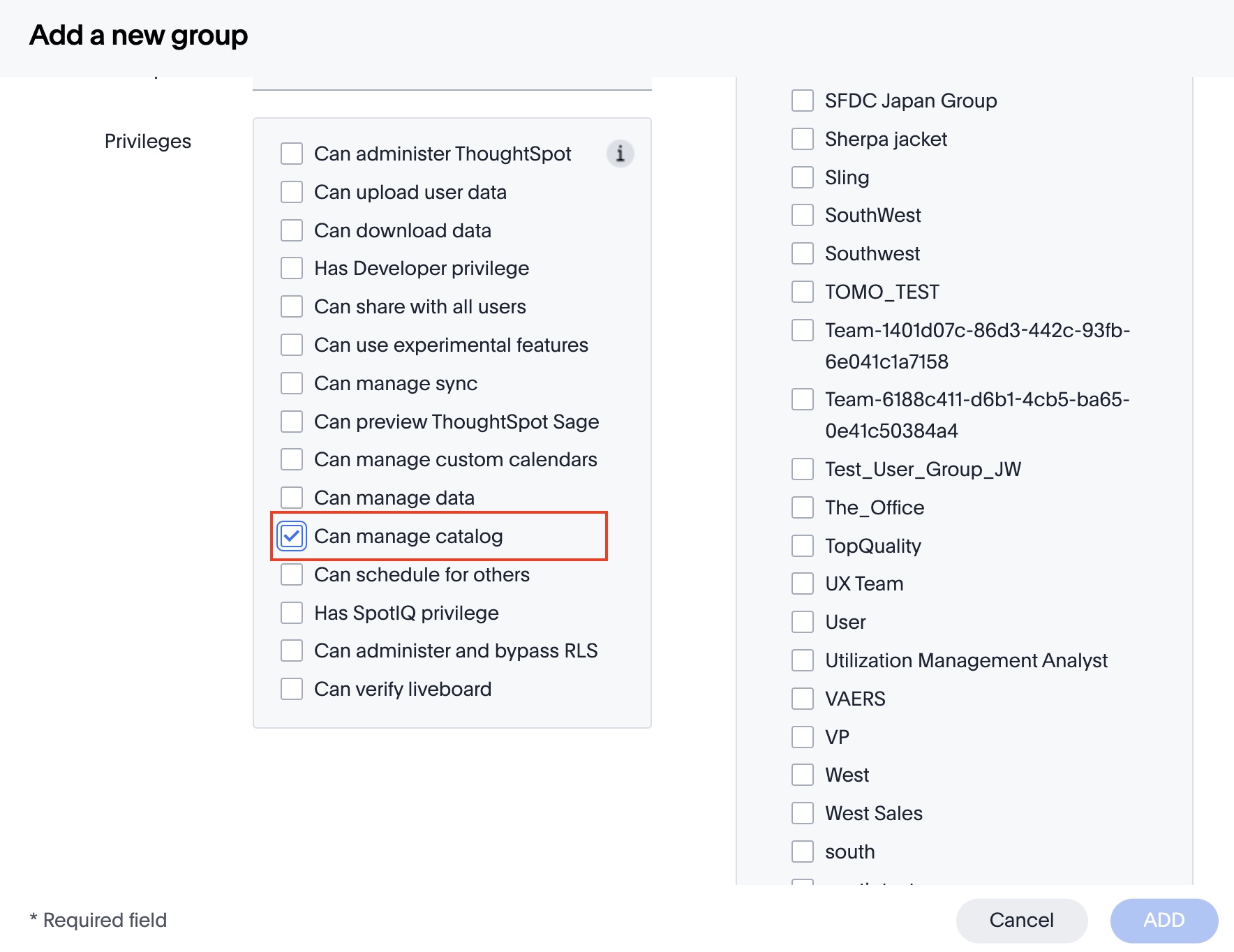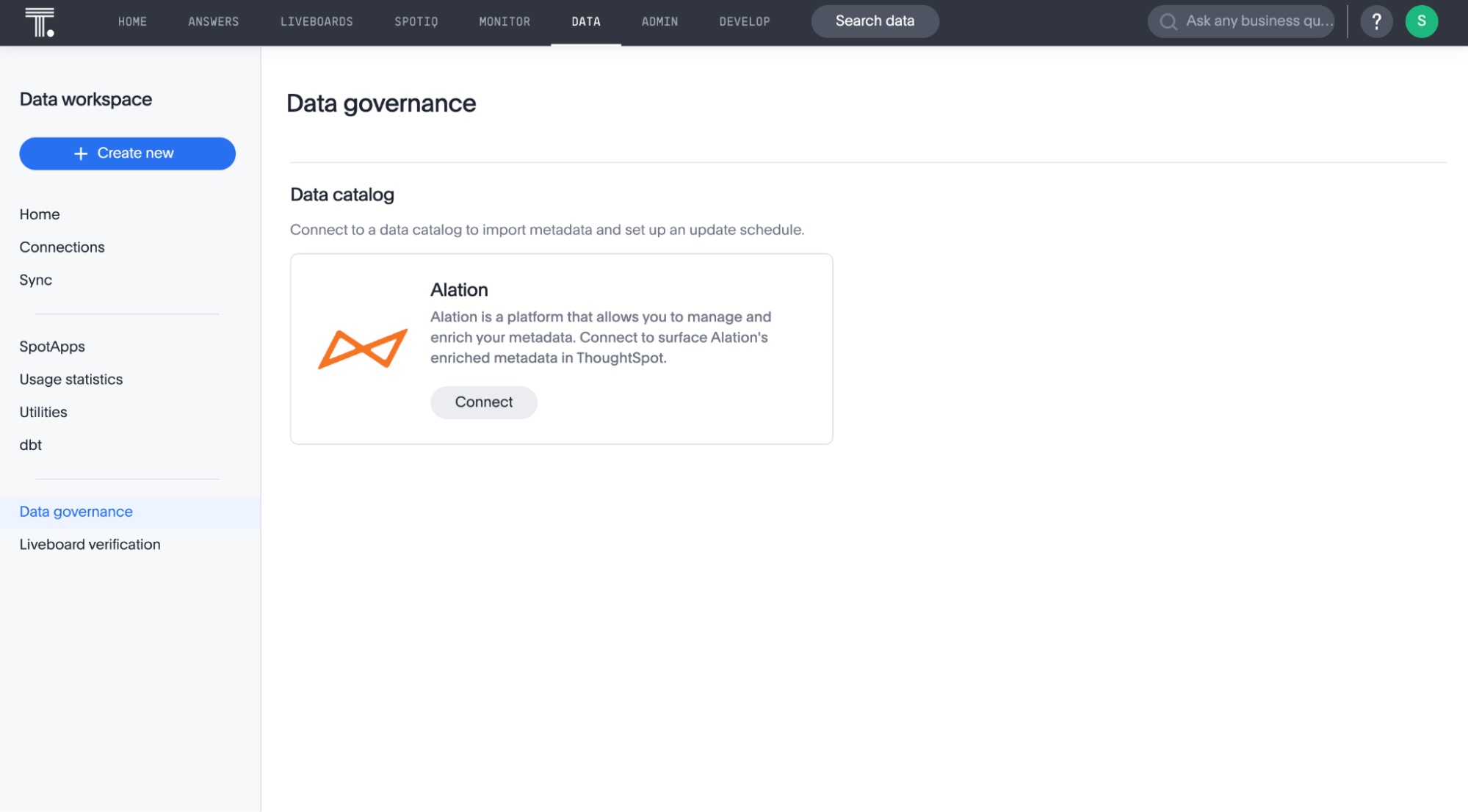 Next, follow these steps: 
Enter your Alation credentials and instance URL.

Set how often you want the metadata to sync from Alation to ThoughtSpot.

Select the metadata fields from Alation you want to sync to ThoughtSpot. Note: Today, you can bring in 4 metadata fields: column description, column verification status, table description, and table verification status. This field selection will be expanded over time to include additional metadata fields based on user interest.

Finally, hit Save and voila: You are now connected to Alation in ThoughtSpot!
Now that you have your metadata imported in ThoughtSpot, you're probably wondering where exactly it appears. You can control this through the setting in the "Information panel display" section. Click on Manage columns or Manage data sources. Once here, you can select which fields to display on the Search data knowledge card and preview how that selection will appear to the end user. For example, in the image below, we have enabled Column description from the catalog but disabled the Column trustcheck field.
After this setup is complete, your business users can now benefit from the Alation connection by going to Search Data and clicking to see the knowledge card from either the table data sources or the columns. For example, in the image below, the new Catalog description field is pulled from the Description field in Alation and the Verification status field is pulled from the Trustcheck field in Alation. Now, we can benefit from the centrally governed definition of the "Opportunity ACV" column and trust that it is a verified and maintained column. Users can then pull this column into their Answer, adding an extra layer of confidence for future users who complete this analysis.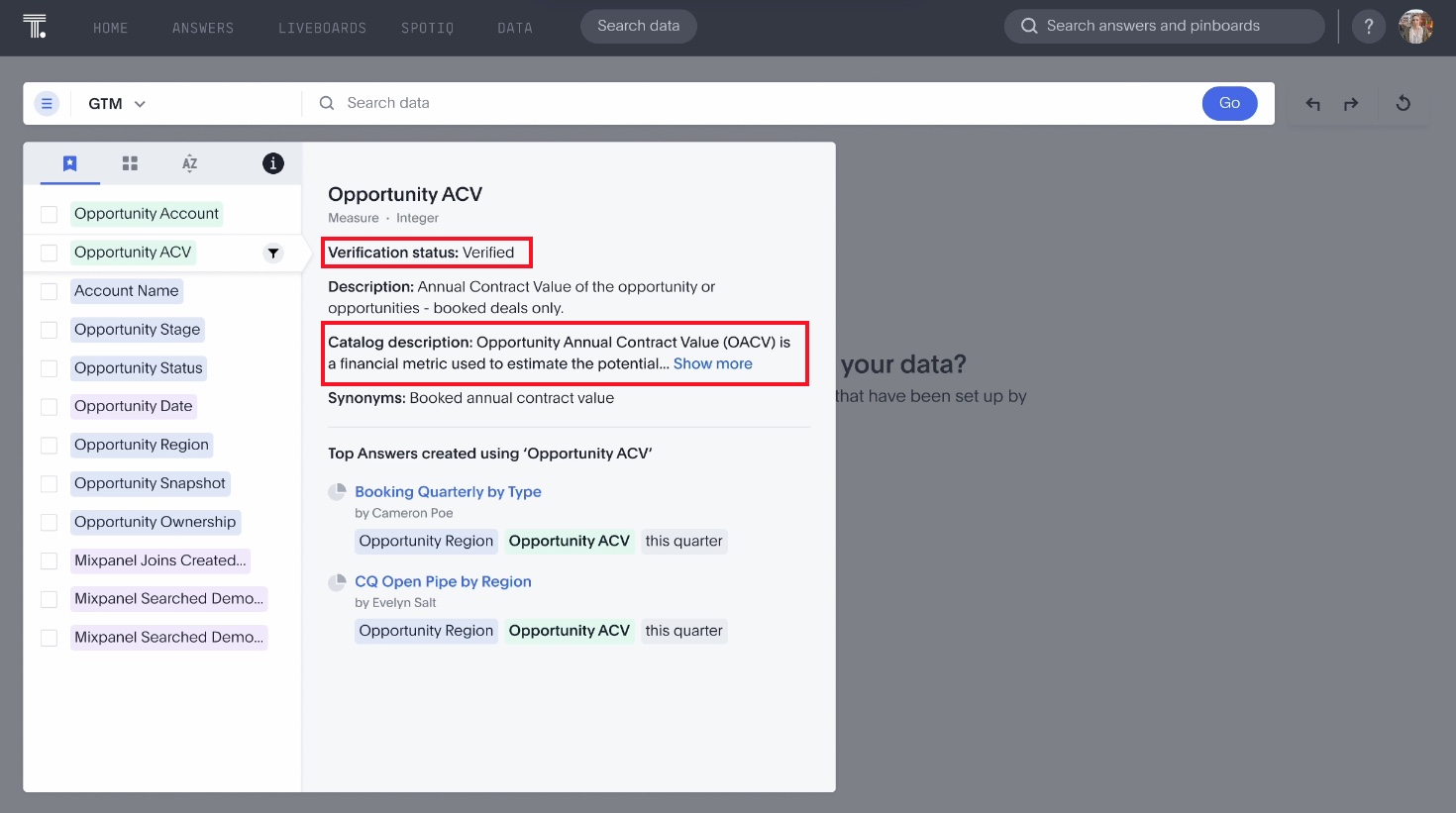 Looking ahead
ThoughtSpot is actively expanding in our catalog integration journey by building a similar connection with Atlan and Collibra. 
Subsequently, we plan to deepen our integration with each of these three catalog tools, providing you with the ability to: 
1) Bring in more metadata fields
2) Surface catalog information in other pertinent places apart from the Search Data knowledge cards 
For example, imagine an analyst seeing lineage information on the Worksheets pulled from your data catalog. This would help analysts build and maintain more trusted Worksheets as they can verify the path that the data has taken.
What other use cases do you have for catalog integration that we could build?  Let us know by joining the ThoughtSpot Community. Already a member? Start engaging with our Product Ideas forum today. We'd love to hear from you.