Investing in Smarter Financial Reporting Saves Time and Money
If you work in the financial services industry, you are responsible for your clients' outcomes. That's a lot of pressure. Making anything less than a data-backed decision leaves too much margin for error. It's no surprise, then, that financial reporting is practically the backbone of the industry.
Whether you manage a bank, broker mortgages or trade securities, you need access to accurate data—and stat! The last thing you have time for is sitting around and twiddling your thumbs while the IT or data department prepares a report. Hint: That could take weeks, if not months.
The Case for Financial Analytics
Investing in financial analytics really means investing in your present and future performance. For example, think about how much time and energy your employees would save if they could instantly pull insights from billions of rows of stored company data. Suddenly, everyone would be their own personal data analyst.
There are several financial analysis tools to consider here. The Relational Search Engine crunches numbers to find answers to users' most pressing queries—returning them in seconds as a chart or graph. Meanwhile, the SpotIQ AI Engine uses machine-learning algorithms to dig up actionable insights you didn't even know you needed. For reference, it could take human analysts as long as 40,000 hours to do what SpotIQ does in a click.
Case Studies from Financial Services Customers
Want to know what our financial reporting software looks like in action? Here are a few brief case studies from ThoughtSpot users:
Scotiabank: Banking teams are able to better analyze customer and account data from multiple branches spanning billions of transactions.
Sterling National Bank: With analytics use up 230 percent among sales and marketing personnel, it's no wonder the result was more effective campaigns.
Primary Capital Mortgage: Search-driven analytics has helped save sales and service teams over 600 hours monthly.
A Fortune 500 Financial Advisor: Traders improved margins by 10 percent thanks to faster, more accessible insights.
Want to learn more about financial reporting and business intelligence from ThoughtSpot? Click here.
DEMO VIDEO
Get automated insights with a single click
More About Financial Services
Why ThoughtSpot?
ThoughtSpot makes it easy for anyone to get answers from their company data in seconds. Simply search to analyze your data and get automated insights with a single click.
Simple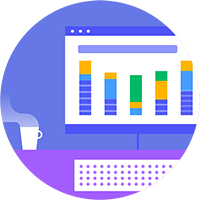 Simple
True self-service
for everyone
Smart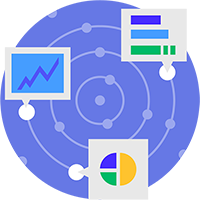 Smart
AI-driven insights
so you know sooner
Fast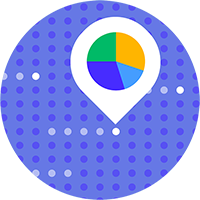 Fast
Lightning fast answers
on 10s of billions of rows
The most successful companies use ThoughtSpot.
See how the most innovative organizations use ThoughtSpot to get more value from their data.